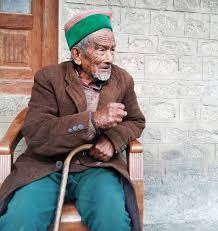 At 102, India's oldest voter all set to poll for record 32nd time
At 102, India's oldest voter Shyam Negi is all set to head to the polls for a national record 32nd time. The retired teacher has cast his vote in every major poll since the country's first elections in 1951. And the father-of-seven, who in 2014 was made brand ambassador and mascot for the Election Commission of India, has the distinction of being the first ever Indian to complete an election ballot paper.
Although an ardent supporter of India's current Prime Minister Narendra Modi, Negi believes the outcome of recent Indian-Pakistani tensions over Kashmir could be a crucial deciding factor in the result of India's general elections later this year.
Negi will be keeping abreast of developments by listening to news updates on his trusty Philips radio from his Kalpa village home in the Kinnaur district of Himachal Pradesh, a state in northern India.