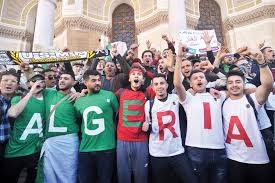 Protesters step up demands
A huge crowd of demonstrators marched through the Algerian capital for a fourth consecutive Friday to step up demands for President Abdelaziz Bouteflika's ouster, rejecting his offer not to seek re-election. With police standing back without intervening, protesters converged on Algiers' landmark Grand Poste Square for the rally calling on the 82-year-old to step down after two decades in power.
Men, women and children gathered in a festive atmosphere, in numbers that appeared to match the previous week's demonstration when tens of thousands took to the streets across the country, an AFP correspondent said.