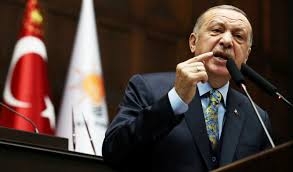 Turkey 'to go it alone' with Syria security zone
Turkey may establish its own 32km security zone in northern Syria to keep Kurdish militias away from its border, President Recep Tayyip Erdogan said yesterday.
The threat by Ankara to "go it alone" with a buffer zone follows silence from Washington on US involvement in the plan. President Donald Trump proposed the border zone, but has not specified who would create, enforce or pay for it, or where exactly it would be.
"We expect the promise of a security zone, a buffer zone aimed at protecting our country from terrorists, to be fulfilled in few months," Erdogan said on Friday.
"Otherwise we will establish it ourselves. "Our only expectation from our allies is that they provide logistical support to Turkey's effort. Our patience has a limit. We will not wait forever for the fulfilment of the promises given to us."
Erdogan said neither the UN nor the international coalition formed to protect the Syrian people were capable of creating a safe zone or maintaining security in the region.