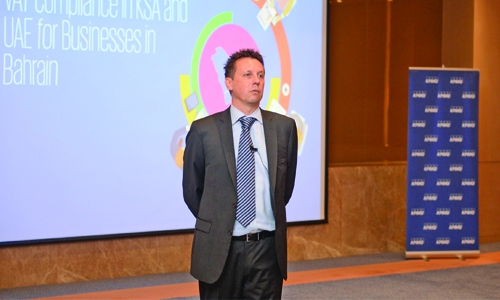 KPMG sheds light on VAT challenges in Saudi, UAE
Manama : Around 100 business leaders and senior finance executives gathered yesterday at an event organised by KPMG in Bahrain to review and debate the first 100 days of VAT in the GCC and the lessons to be learnt for Bahraini businesses from the introduction of value-added tax (VAT) in the Kingdom of Saudi Arabia (KSA) and the United Arab Emirates (UAE).
The half-day seminar, 'VAT compliance for Bahrain businesses in KSA and UAE: the do's and don'ts in Bahrain and beyond' examined the current implications on Bahraini businesses with operations in or with Gulf countries that have already implemented VAT, how to tackle these, how to ensure a correct tax treatment from business partners and what to expect in Bahrain including process and technology solutions.
Philippe Norré, Tax Partner and Head of Indirect Taxes at KPMG in Bahrain explained that having a clear understanding of VAT treatment for outgoing and incoming transactions between countries that have implemented VAT and those yet to implement VAT (like Bahrain), is just one of the current main challenges facing companies in non-implementing GCC states.
"VAT is a new concept to Bahrain and the GCC region, and after it goes-live further changes are quickly expected to happen to the law and its application. Therefore, companies need to be responsive to regulatory updates and take action to adapt their internal processes, knowledge management and IT systems." Norré continued.
The event took place on Monday at the Downtown Rotana Hotel.