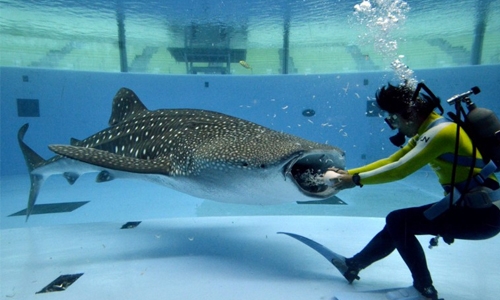 Limavady firm to construct giant aquarium in Bahrain
A Co Londonderry design firm has won a multi-million pound contract to build a 17 metre-high shark and fish aquarium in Bahrain.
ELSS Engineering, which is based in Limavady, is a specialist in large-scale aquarium design, installation and management, with 99% of its business coming from overseas clients.
The multi-million export contract is for the complete design, installation and five-year management of an aquarium to accommodate black-tipped sharks, nurse sharks, stingrays and a range of smaller tropical fish, which the company will also source for its client.
Upon completion, the aquarium will be situated in the Mall of Dilmunia in Bahrain and will stand more than 17 metres high and contain some 700,000 litres of water.
UK Export Finance (UKEF), a UK government department that provides finance and support for UK exporters, worked with ELSS and the Bank of Ireland in order to secure the deal. Liz McCrory, UKEF's export finance manager for Northern Ireland, said ELSS is an example of a successful company "truly making the most" of exporting.