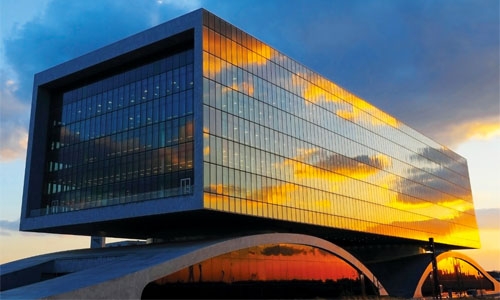 Bahrain FinTech Bay officially launched
Manama : Bahrain FinTech Bay (BFB), the largest financial technology hub in the Middle East & Africa, was officially launched yesterday. Located in Arcapita building in Bahrain Bay, BFB covers an area of 10,000 square feet of usable space.
The hub will be a big boost for the financial technology sector. It will support fintech firms as well as facilitate interaction among investors, entrepreneurs, government bodies and financial institutions. Yesterday's launch follows its soft launch on November 21 last year. BFB will feature co-working space, innovation labs, acceleration programmes, curated activities, educational opportunities, and a collaborative platform to source partners, investors, talent and build a regional network. FinTech Consortium, through its subsidiary FinTech Consortium Bahrain, was appointed as the operator and ecosystem builder of BFB. Over 50 partners were announced yesterday including 28 founding partners. The founding partners represent a cross-section of Bahraini and global financial services and technology industry leaders.
"BFB will play a central role in e supporting the ecosystem necessary for innovation to thrive," said Khalid Al Rumaihi, Chief Executive, Economic Development Board of Bahrain (EDB).

"The facilitation of co-working and incubation, combined with Bahrain's regulatory sandbox and focus on opening up access to funding, is creating an ideal environment for startups and corporates to test and then scale across the region," said Al Rumaihi.
"We are excited to open Bahrain FinTech Bay with the support of our founding partners who represent some of the world and region's leading financial institutions. With their support, we look forward to facilitating collaboration across borders and between government, corporations and startups to accelerate innovation in the financial services sector both here and around the world," Khalid Saad, CEO of Bahrain FinTech Bay said.
International startups already set to gain from the partners' expertise at the fintech co-working hub include US-based RobustWealth, Offrbox and Sigma Ratings as well as Jordanian startup, Labiba.
BFB executive board comprises of Gerben Visser, Maissan Al Maskati, Khalid Al Rumaihi and David Parker.