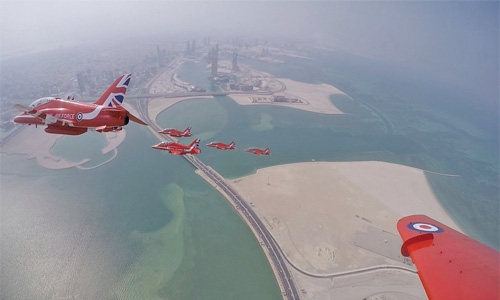 Red Arrows are back to soar over Bahrain
Manama : The British Embassy has announced the return of the British Royal Air Force Aerobatic Team the Red Arrows to Bahrain, following a historic fly past last November.
This year they return to conduct a full flying display as part of a wider regional tour to promote the United Kingdom's long-standing relations across the Gulf. The display will be visible along the length of Karbabad beach on 8th October at 16:00. The residents of Reef Island will also get a great view.
"I'm delighted that the team are back to represent the best of British innovation and excellence within the Royal Air Force, which shows the UK's commitment to strengthen its relations with Bahrain, especially in regard to defence and business cooperation," said Simon Martin, British Ambassador to the Kingdom of Bahrain.
The Red Arrows have been impressing crowds across the United Kingdom and around the world for more than 50 years. 2016 was a particularly exciting year for the team, performing in China for the first time as well as mounting displays and fly pasts in16 countries, including Bahrain. The team, which flies British-built T1 Hawk fast-jets, will have completed more than 4800 displays since their very first show in 1965.
During the Red Arrow's visit to Bahrain, the team will make a number of appearances, including meeting with a business women's group and officials from the British and Bahraini business communities, as well as meeting children from one of the schools in the country, in a bid to inspire the next generation of pilots and engineers in Bahrain.
"On this occasion, I would like to express our sincere gratitude to the Ministry of Interior, Bahrain Defence Force, along with the Ministry of Foreign Affairs, for all their outstanding efforts and support to this remarkable event possible," added Simon Martin.
The visit of Red Arrows aim to further enhance close cooperation with Bahraini and regional armed forces and promote opportunities for investment and trade with the UK, encourage government-to-government engagement to develop economic partnership, and showcase the excellence of the RAF with displays in a number of countries including Jordan, Saudi Arabia, Kuwait, Oman and Bahrain.