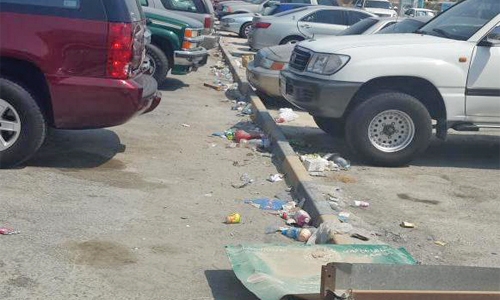 Teenager starts campaign to end litter menace
Manama : In an effort to get people to stop littering and in pursuit of a clean and healthy country, a 17-year-old environmentalist in Bahrain is partnering with companies to tackle the litter menace in the Kingdom.
St Christopher's School student Ahmed Khan set up 'Clean up Bahrain' to tackle issues such as pollution and littering in Bahrain.
Within just a month since its establishment, Clean Up Bahrain has already partnered with four companies. The first campaign of the initiative was recently held at a major event hosted by Brave Combat Federation.
Witnessing the nagging issue of littering in Bahrain is what prompted him to start the initiative, according to Ahmed.
"It all started off in the summer. A few of my relatives from abroad came to visit Bahrain. As we visited a beach, we found that the surroundings were filthy by the amount of litter strewn around. That's when I first thought about making some type of an independent community organisation to educate people about pollution," he told DT News.
Explaining the goals of the organisation, he said that the main aim is to educate the youth to stop littering and the effects of pollution.
"We aim to teach the youth on how to avoid unnecessary littering, management of waste, and. We also aim to address different ministries in Bahrain to increase fines on littering
and to curb factory emissions. The public will also be encouraged to recycle materials rather than throwing them in the bin," he said adding that Bahrain's pollution is increasing at an alarming rate.
Ahmed Khan plans to visit schools and attend more events as part of a campaign.
"Now that the organisation has been completely set up we are now looking to start attending schools, smaller companies and put up stalls at public events,. Most events are planned to be hosted within other larger events such as Brave'. We expect to go full-fledged by next year."
Eventhough Bahrain is one of the smallest countries in the world, it faces one of the biggest pollution problems, according to Ahmed.
"Singapore is a country which has a smaller area, and a much larger population. However, it has very strict environmental laws and the country is very wary about environmental problems, which is why it is one of the cleanest countries in the world," he said pointing out that Bahrain was ranked the 10th most polluted country by the World Health Organisation in 2014.
He said that he expects to partner with more companies in the coming months. "We need some funding to carry out some of the larger plans, which would require some support of companies within Bahrain," he said