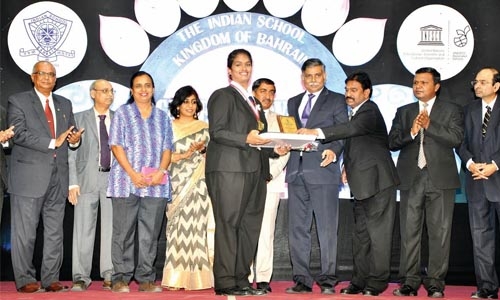 Definiteness of purpose is the starting point of all achievement, say Karishma and Prateeka who are siblings and whose achievements go beyond just academics. Karishma Hemanathan has achieved the highest grade in the bio-math stream in the Indian School. She is also the subject topper for Physics and Mathematics in the entire school. What makes her story newsworthy is not only the fact that she is a school topper but also for the reason that she is an incredibly talented musician. She has been placed in "The Indian Book of Records" as the youngest Pianist and Guitarist."
Her lists of awards are many and well-deserved too. She showed an early inclination to music- at an age as young as 3! Recognizing her developing interest she started learning musicology under the guidance of Major General Dr. Mubarak Najeem, Ministry of Interior, Kingdom of Bahrain. She has mastery over three instruments- Piano, Guitar and Oud. Not only Karishma but her sister Prateeka is also musically talented. Prateeka has mastery over piano, percussion and drums. These two were the only Indians who got selected into the casting of the famous musical show 'Arab Idol' from Bahrain.
She graduated in piano and guitar from the Royal School of Music, London. She learnt to play Oud under a well-known master known as the 'Oud Knight' Mr. Saad Mahamood Al Jawad. She has performed for the Ministry of Social Development, Royal Charity Organization, Music festivals in shopping complex, Solo Ladies Nights and various other cultural programs. She has received several awards for her music and is at present the only Indian female Oud player in the entire Gulf.
When it comes to studies her balance of extra-curricular and academics have been extraordinary. Even from Grade 1 she's been balancing her music and studies and has always been in the principal's honors list. The schooling years have taught her the important lesson on balancing and setting her priorities.
"The secret behind this success is planning, coordination, measurement and execution, " Karishma said on her award ceremony at Indian School.
She says her academic success was achieved without any external help in the form of private tuitions. She completely relied on all her teachers to learn and was successful in doing so. Her school has taught her that academics and extracurricular go hand in hand. These tough lessons helped her to improve her multi-tasking abilities.
"I am sure that I will become a cardiac surgeon that will enable me to serve mankind, " she said.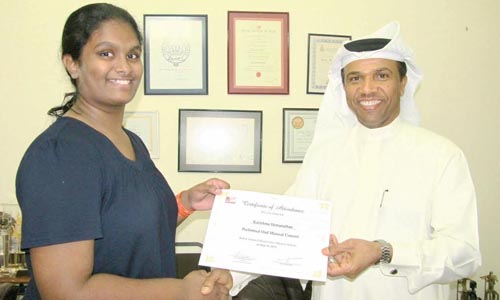 Karishma receives appreciation certificate from certificate Major General Dr. Mubarak Najeem.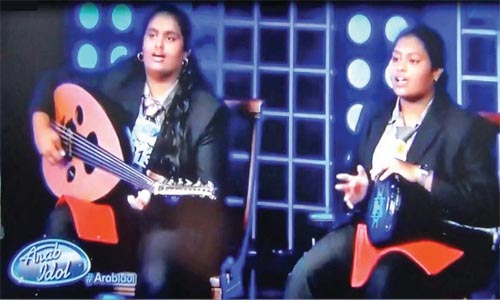 Karishma and Prateeka in Arab Idol