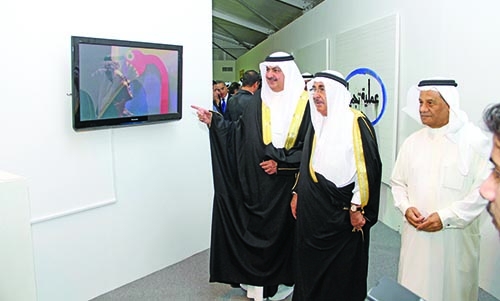 Shaikh Rashid opens "Views"
Manama:Shaikh Rashid bin Khalifa Al Khalifa inaugurated the art exhibition 'Views' at the Ritz Carlton Hotel, here in Bahrain yesterday. A specified number of diplomats, ambassadors including French, Pakistani, Indian and Jordanian ambassadors, media and other high officials from different walks of life were present at the moment.
'Views' an exhibition featuring the work of over 50 local and international artists will open to the public today and will continue till 16 March. It will remain closed on Friday while on Saturday it will remain open from 10am to 9pm and from Sunday to Wednesday the opening hours will be from 4pm to 9pm.
Bahrain Art Society in collaboration with the ArtBahrain have organized the exhibition while the Bahrain Art Society, Al Riwaq Art Space, ArtBahrain and Albareh Art Gallery are presenting a selection of work. The Bahrain Art Society, a non-profit Art society was established in 1983, is presenting a carefully considered selection of work of 30 established local artists who have long practiced in Bahrain and who have exhibited internationally over the past 3 decades.
Art Bahrain founded by Shaikh Rashid in 2010 is showcasing the works of visiting international artists including Sookoon Ang (Singapore), Sebastian Bieniek (Germany), Lido Rico (Spain) and Anne Senstad (Norway) together with the works by Damian Hirst (UK) and Marc Quinn (UK).