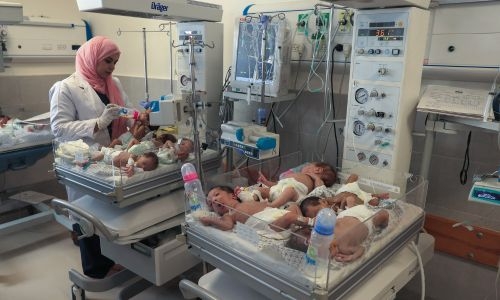 Hamas says 12 killed in hospital strike
AFP | Jerusalem, undefined
The Daily Tribune – www.newsofbahrain.com
The health ministry in the Hamas-run Gaza Strip said yesterday 12 people were killed in an Israeli strike on a hospital in the north of the Palestinian territory.
The 12, including wounded patients and their companions, "were killed and dozens wounded as a result of the Israeli occupation targeting the Indonesian Hospital", said ministry spokesman Ashraf al-Qudra.
The ministry director said it had not been possible to recover the bodies.
"The (Israeli) occupation has destroyed some buildings of the Indonesian Hospital, and other buildings are under sniper fire," Munir al-Bursh said from the hospital.
Bursh said the 140-bed Indonesian Hospital currently has 650 patients, more than 100 of whom require urgent surgery.
The Israeli military previously ordered residents of northern Gaza to flee southwards and said Sunday it was "expanding its operational activities".
Bursh said Israeli forces "targeted" people trying to leave the Indonesian Hospital. Israeli strikes have hit "the clinics and surgeries floor at the hospital, destroyed equipment and bodies are piled up", he said.
The Hamas government has repeatedly accused Israel of launching a "war against hospitals", which scores of strikes on and near medical facilities in recent weeks.
The Israeli military says the Hamas has built underground infrastructure below hospitals for military usage, which Hamas and medical officials deny.
On Sunday it released what it said was footage of hostages being brought in to Al-Shifa hospital in Gaza City, the territory's largest, where it said it had discovered a 55-metre long "terror tunnel".
The United Nations humanitarian agency OCHA has reported the "collapse of services" at hospitals across northern Gaza, following widespread strikes and the lack of fuel and medical supplies.
Al-Shifa was described Sunday as a "death zone" by the World Health Organization, in the wake of incursions by Israeli soldiers and multiple strikes on the facility.
More than 250 patients and 20 healthcare workers remain at the hospital, WHO said after 31 premature babies were evacuated southwards, 28 of whom were transferred to Egypt on Monday.