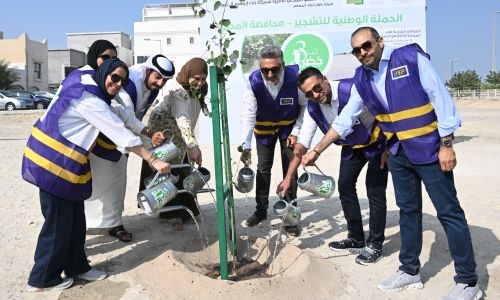 'Forever Green': Bahrain Islamic Bank's 'Jood' team plants 100 seedlings
TDT | Manama
The Daily Tribune – www.newsofbahrain.com
As part of the third phase of 'Forever Green', Bahrain Islamic Bank's (BisB) voluntary team 'Jood' planted 100 seedlings at Samaheej Park.
The event had the presence of Shaikha Maram Bint Isa Al-Khalifa, the Secretary-General of NIAD, alongside BisB management and 20 children from the Bahrain Down Syndrome Society.
This initiative, organised by the National Initiative for Agricultural Development (NIAD), also served as a commemoration of World Children's Day.
Yaser Alsharifi, Chief Executive Officer of BisB, expressed the bank's commitment to actively participating in the initiative for the third consecutive year, emphasizing its alignment with their Environmental, Social, and Governance (ESG) objectives.
Isa Al-Khalifa, the Secretary-General of NIAD, commended BisB for involving both the bank's employees and children with Down Syndrome in the national afforestation campaign.
The 'Forever Green' initiative, initiated in 2021, strives to enhance green areas within the Kingdom through collaborative efforts between the public and private sectors.