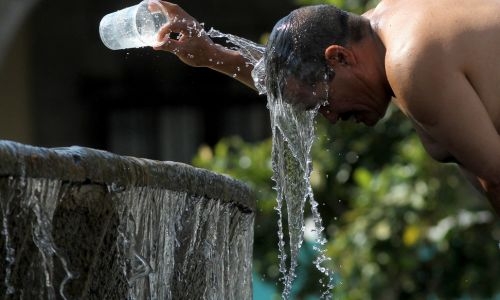 October hottest month ever as 2023 will be 'warmest' year
AFP | Rafah, Palestinian Territories
The Daily Tribune – www.newsofbahrain.com
Last month was the hottest October on record globally, Europe's climate monitor said yesterday, as months of exceptional heat are likely to make 2023 the warmest year in history.
With temperatures soaring beyond previous averages by exceptional margins, scientists say the pressure on world leaders to curb planet-heating greenhouse gas pollution has never been more urgent as they prepare to meet in Dubai for the UN COP28 climate conference this month.
Drought parched parts of the United States and Mexico during October, while huge swathes of the planet saw wetter than normal conditions often linked to storms and cyclones, said the EU's Copernicus Climate Change Service (C3S).
Sea surface temperatures were the highest ever recorded for the month, a phenomenon driven by global warming that scientists say plays a key role in driving storms to be more ferocious and destructive.
"October 2023 has seen exceptional temperature anomalies, following on from four months of global temperature records being obliterated," said Samantha Burgess, C3S deputy director.
"We can say with near certainty that 2023 will be the warmest year on record, and is currently 1.43 degrees Celsius above the preindustrial average.
"The sense of urgency for ambitious climate action going into COP28 has never been higher."