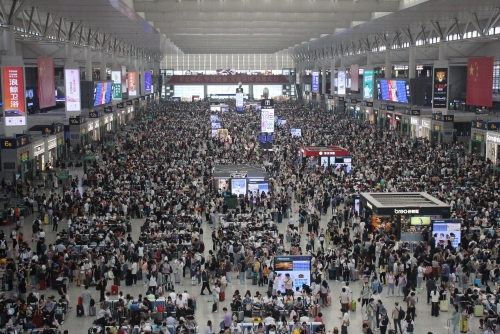 Millions travel across China as national holiday kicks off
AFP | Shanghai
The Daily Tribune – www.newsofbahrain.com
Chinese travellers thronged transport networks Friday as an eight-day national holiday kicked off, the first October break since the end of the strict zero-Covid policies that separated families and hammered the tourism industry.
Pre-booked international trips were 20 times higher than in the same period last year, and domestic trips over four times, according to data from Trip.com, China's largest online travel provider.
Last year, a slew of measures including mass coronavirus testing, health codes, quarantines between different provinces and restrictions on movement made travelling anywhere a daunting proposition.
But Friday morning saw the Beijing South railway station inundated by passengers dragging luggage as they hurried to their trains.
In Shanghai's cavernous Hongqiao train station, thousands of travellers bustled around buying food and last-minute presents for relatives -- including live crabs from a stand by the main ticket counter.
At the international airport next door, a steady stream of passengers passed through security, with a transport worker saying the day before had been even busier.
Beijing's two international airports are expected to handle around 2.3 million people over the holiday, state media reported, with airlines operating larger planes and adding more flights to meet demand.
Almost 13 million people were predicted to visit the capital over the holiday, a 21.9 percent increase from the 2019 pre-Covid figure, state media said.
On Friday, people flocked to Beijing's Forbidden City to take advantage of the sunny autumn morning, many of them families.
- Clear skies ahead -
Overall, China will see 1.58 million daily inbound and outbound passenger trips over the vacation period, according to a National Immigration Administration (NIA) forecast on Wednesday.
Notwithstanding the holiday surge, the country's travel and tourism sector has yet to recover to pre-pandemic levels, industry insiders told AFP.
But they are confident it is only a matter of time.
"Originally, we thought it could all happen by the end of this year or beginning of next... (But) I think we're probably talking about the next two to three years for it to be completely back," World Travel and Tourism Council chief Julia Simpson told AFP in an interview this week.
Simpson pointed to visa delays for Chinese nationals and fewer flights available as key reasons why travel out of China had not rebounded as quickly as expected.
Still, the WTTC has predicted that within the next 10 years, China will overtake the United States as the largest global travel market.
Simpson said there was strong political will from the Chinese government to promote the sector's growth.
"Like turning a tap back on after a period when it's been very firmly closed, it takes a bit of time, but there's a great will for tourism to be successful both in and out of China," she said.
Trip.com said its pre-holiday data showed Chinese travellers are now more willing to pay for "in-depth experiences and high-quality services", and have become more adventurous in their destination choices.
The company's boss Jane Sun told reporters in September that she was confident interest would continue to develop.
"Chinese people are taught by Confucius that it is better to travel 10,000 miles than to read 10,000 books. So it is in our genes to use travel as a means to explore the world," Sun said.
"We're very positive for domestic travel as well as travel around the world."