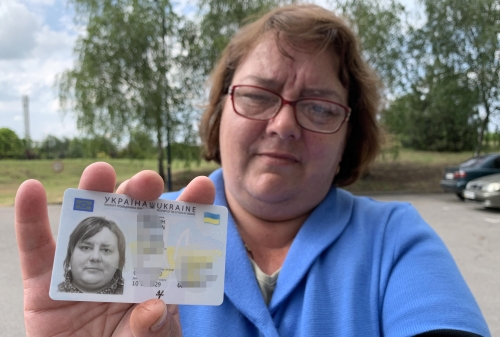 Russia passports forced on Ukrainians 'to erase identity'
AFP | Kyiv
The Daily Tribune – www.newsofbahrain.com

Before fleeing occupied Ukraine, Victoria was getting squeezed to apply for a Russian passport she said she never wanted as "I'm a citizen of Ukraine".
Soldiers in the street warned her to get one, she could not file key paperwork without it, and she heard stories of door-to-door checks ending in deportation for people lacking Russian papers.
Moscow has been steadily imposing its passports in an effort to justify its occupation and tighten control, but also to undermine Ukrainian identity, experts said.
"I absolutely didn't want to do it," 43-year-old Victoria, speaking on condition her full name not be used, told AFP in Ukraine-held Zaporizhzhia.
But she relented when she needed to register a home and car deed -– transactions for which Moscow-installed authorities demanded Russian documents.
She began getting the required Russian translations of her Ukrainian marriage and birth certificates, but left the process unfinished when she fled eastern Ukraine in January.
"Even if I got a Russian passport, I would still remain Ukrainian. For me, nothing would change," she said.
Russia had for years been issuing passports to Ukrainians in the eastern Donbas areas held by pro-Moscow separatists as well as annexed Crimea.
- 'Start queueing at night' -
But since President Vladimir Putin launched his invasion 15 months ago, the passport drive has gradually become more aggressive.
An array of routine necessities such as receiving government benefits, getting or keeping a job and seeking medical treatment require Russian-issued papers, experts and residents told AFP.
Putin in April even signed a decree that allows Ukrainians in occupied areas to potentially be deported if they do not get a Russian passport by July 1, 2024.
"There are queues at the passport offices," 40-year-old Alyona, who spoke on condition her full name not be used, told AFP from occupied Ukraine.
"My friends went recently and by 8 am there were already 48 people waiting for the passport office to open. People start queueing up at night."
Alyona, who lives in the Donetsk region, said she got a passport from pro-Russian separatists in 2020 but it essentially sat unused over the next three years.
"Now a Russian passport is needed everywhere," the shop worker added.
It's difficult to say exactly how many passports Russia has issued in occupied Ukraine, and even more difficult to say how many of those went to willing recipients.
Moscow released a figure in late November of 80,000 passports given out just since Putin had claimed to have annexed four Ukrainian territories in September.
The governor of the eastern Lugansk region, Sergei Gaidai, told AFP the passports were used by Moscow to try to support its claim of invading Ukraine to protect Russian speakers.
However, he added the passports were more or less optional in the first months of the occupation, but have since become compulsory.
"A person who received a Russian passport, who was forced to receive it, and a person who received it voluntarily are different situations," he added.
- 'Erase Ukrainian identity' -
Humanitarian groups have taken a harm-reduction stance on the issue, saying people need to survive and sometimes Russian passports are part of that.
"We know that the vast majority of these individuals still received them under the influence of threats, under the influence of violence," said Mykhailo Fomenko, a lawyer with Donbas SOS aid group.
"When it's all over, these passports will be removed from our lives and forgotten," he added.
Yet long after the documents are issued, the fingerprints, photos and family information collected from applicants will remain in Russia's possession, in a boon for its security apparatus.
The information also serves as a ready-made list for drafting men into Russia's war effort, which experts say has already happened.
Despite Russia blocking access to vital services for those without its passports, there are things that cannot be done with them.
The European Union said it would not recognise Russian passports issued in regions of Ukraine annexed by Moscow.
The move -- which also covers two Kremlin-controlled areas of Georgia -- means Russian travel documents given to residents of those regions cannot be used to get visas or to enter the Schengen zone.
Their utility in Russia is also in question, said the Lugansk governor Gaidai.
"We have many examples when people who received a passport in occupied Lugansk, then went to Russia and had problems, for example, with trying to get a mortgage," he noted.
Regardless of practical implications of the passports, their very issuance is seen by some advocates as a fundamental attack.
"They want to erase Ukrainian identity," said Alena Lunova, advocacy manager at Ukrainian human rights group Zmina.