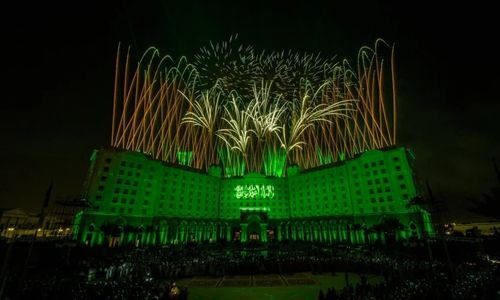 Spectacular events add charm to Saudi National Day celebrations
Agencies | Riyadh
The Daily Tribune – www.newsofbahrain.com
The Bahrain Tourism and Exhibitions Authority organised a series of events to observe Saudi National Day under the slogan 'Delighted to See You' - a brotherly message to the thousands of Saudi tourists who travel across the Kingdom on a regular basis. The event, which was held under the slogan "Road to Manama," included a Bahraini folk troupe that performed a number of Saudi and Bahrain traditional songs, kids and advanced workshops aimed at introducing ancient Bahraini crafts, traditional games and band and kids' puppet show, and many more.
Dr Nasser Qaida, CEO of the Tourism and exhibition Authority, stated that the "authority chose Manama Souq as the location to celebrate the National Day as the two countries 'long-standing historical ties, one of which is a trade and cultural exchange, with a particular emphasis on the shared history that unites the people."
Dr Qaidi explained, "We welcome everyone from the Kingdom of Saudi, we promise them a rich tourism and entertainment programme through which they will explore many of the accommodation, hospitality, and entertainment experiences offered by the establishments of the Bahraini tourism sector, thus enhancing Bahrain's position as their preferred first destination."
Zain Murtada Al Sakib, a calligrapher at Manama Souq, told the Daily Tribune, "I write names in Arabic calligraphy and it especially attracts foreigners as they like Arabic font because the writing starts from left to right and they prefer names written in seashells and bookmarks." He said that most visitors are families who come here on weekends to shop for antiques. He also mentioned that arts and crafts are the first thing that draws tourists here. The Bahrain International Airport also marked Saudi Arabia's 92nd National Day.
Airport employees, who were carrying the Saudi flag, presented souvenir gifts to passengers coming from Saudi Arabia. Meanwhile, a folk group performed patriotic Al Ardah songs to express joy over the precious occasion.