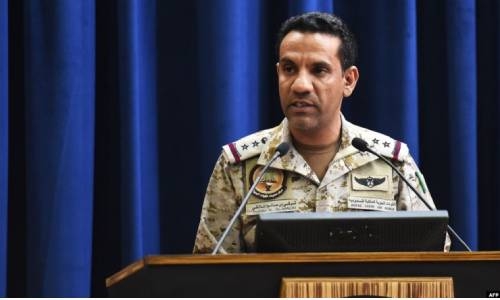 Arab coalition demands immediate release of UAE-flagged cargo ship hijacked by Houthi militia
Agencies | Riyadh
The Daily Tribune – www.newsofbahrain.com
The Arab coalition has demanded the Houthi militia to immediately release a UAE-flagged cargo ship that it hijacked off the Yemeni port city of Hodeidah, or face the prospect of a "use force if necessary."
"The militia must promptly release the ship or the Coalition Forces will undertake all necessary measures and procedures to handle this violation, including the use of force if necessary," Coalition to Restore Legitimacy in Yemen Spokesperson Brigadier General Turki Al Malki said.
"On Sunday and at 11: 57 pm, the cargo ship "RWABEE" sailing under the flag of the United Arab Emirates was targeted through piracy and hijacking while sailing off the coast of Hodeidah Governorate.
"RWABEE was on a maritime mission from the Island of Socotra to Jazan Port. It was carrying medical field equipment that was used to operate the Saudi Field Hospital on the Island. The hospital has concluded its mission following its establishment on the Island."
The ship's field hospital equipment cargo includes ambulances, medical equipment, communication devices, tents, a field kitchen, field laundry units, and technical and security support equipment, Al Malki said in his statement, Saudi Press Agency (SPA) reports.
This act of piracy by the terrorist Houthi militia is a credible threat that highlights its threats to the freedom of navigation and international trade in the South Red Sea and Bab Al-Mandab Strait, he added.
"The terrorist Houthi militia will bear full responsibility of its criminal act of piracy against the ship, which violates the International Humanitarian Law, the San Remo Manual on Armed Conflicts at Sea and the United Nations Convention on the Law of the Sea (UNCLOS)," he said.