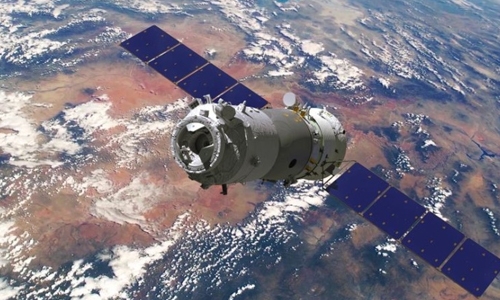 Chinese taikonauts reach space station
Agencies | Beijing
The Daily Tribune – www.newsofbahrain.com
China's manned space mission has reached the Tiangong (Heavenly Palace) space station, which is currently under construction.
The three-man crew reached the space station around six and a half hours after launching into space, China's manned space flight programme announced said on Saturday morning, dpa said.
The crew docked at the core module Tianhe (Heavenly Peace) at 6:56 am Beijing time on Saturday (2256 GMT on Friday).
The astronauts will live and work there for around six months in what will be China's longest space mission by far.
Their Chinese Long March 2F rocket had lifted off from the Jiuquan spaceport on the edge of the Gobi Desert at 12:23 am on Saturday (1623 GMT on Friday).
To date, the longest taikonauts have spent on board the space station is three months, the current Chinese record for time spent in space.
The taikonauts are 55-year-old commander Zhai Zhigang, 41-year-old Ye Guangfu, and 41-year-old Wang Yaping.
Wang, who was the second Chinese woman in space when she lived aboard the Tiangong 1 space laboratory in 2013, is now due to become the first Chinese woman to complete a spacewalk, according to the CMS.
Ahead of the flight, the deputy director of China's space programme, Lin Xiqiang, told journalists at the Jiuquan spaceport that astronauts from other countries would also be invited to join future missions.
The space station could become a platform for international cooperation, including joint space flights, after its completion next ear, Lin said.
He pointed out that Chinese spacefarers had already trained in Russia and Europe. European astronauts had also been to China in 2017 for survival training, he said.
Astronauts from 15 countries have been on board the International Space Station (ISS), but never Chinese taikonauts.
The reason was US opposition. In 2011, the US Congress passed a law prohibiting any contact with the Chinese space programme for reasons of national security.
During their mission, the Chinese crew plans to test the systems of the core module, work outside the spacecraft and conduct scientific experiments.
Prior to their stay, six tons of supplies, fuel and equipment were transported to the core module by a cargo flight at the end of September.
Next year, two further modules are scheduled to be connected to the Tianhe central module to complete the Chinese space station.