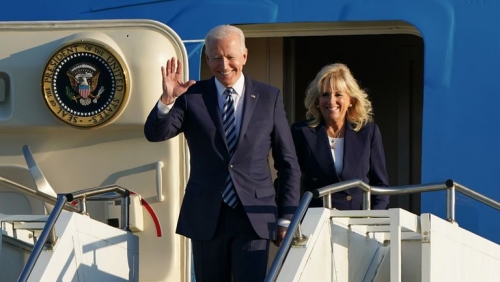 G7 summit: US's Biden to warn UK PM not to risk NI peace over Brexit
BBC | London
The Daily Tribune – www.newsofbahrain.com
The two leaders will have their first face-to-face talks in Cornwall on the eve of the G7 summit.
Mr Biden will stress the need to "stand behind" the Northern Ireland protocol.
They will also discuss transatlantic travel and a new "Atlantic Charter" aimed at refreshing the relationship between the UK and the US.
The US President is on his first overseas visit since being elected and the G7 summit is the first time world leaders have all gathered in person since the pandemic began.
The rollout of the coronavirus vaccination programme and climate change are high on their agenda.
But the ongoing dispute between the UK and the EU over regulatory checks on goods going into Northern Ireland from Great Britain is also likely to feature heavily in diplomatic discussions in the coming days.
President Biden has a close interest in Ireland, given his ancestral roots, and had warned that the Good Friday Agreement must not be jeopardised by rows over trade.
Business and political leaders in Northern Ireland have warned that the trade dispute is causing political angst and instability in the run-up to the marching season next month, a historical flashpoint between loyalist and nationalist communities.
Protocol 'only solution'
Northern Ireland was given special status as a result of the 2019 Brexit "divorce" settlement between the UK and the EU.
While England, Scotland and Wales no longer follow EU rules, Northern Ireland still does, because it shares a land border with the Republic of Ireland, an EU member.
In order to avoid a physical border between the two countries - and thereby protect the peace process - it was agreed that customs checks would take place on goods entering Northern Ireland from elsewhere in the UK.
But Unionists say this has effectively put a border down the Irish Sea instead - something they are ideologically opposed to - and business say supply chains have been complicated and disrupted.
Talks on Wednesday between Brexit minister Lord Frost and the European Commission's Maros Sefcovic to try to resolve the standoff ended without a breakthrough.