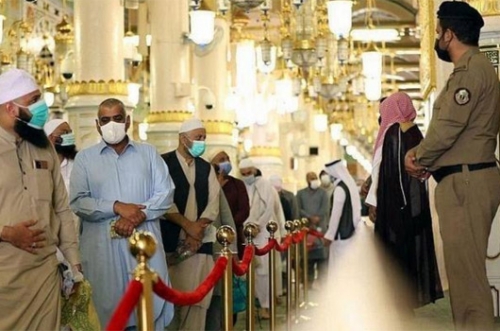 Coronavirus: Saudi Arabia welcomes first foreign Umrah pilgrims to Madinah
Agencies | Riyadh
The Daily Tribune – www.newsofbahrain.com
The first batch of Umrah pilgrims from overseas arrived in Madinah on Monday after performing Umrah rituals. The pilgrims were 37 visitors from Pakistan, according to Saudi Gazette.
The entry of the visitors to the Prophet Muhammad's (PBUH) Mosque will be organised according to the dates approved by the 'Eatmarna' app. It will also be according to the possible operational capacity to apply precautionary and preventive measures to curb the spread of Covid-19.
As per the plan unveiled by Saudi government agencies, the third phase of the gradual resumption of Umrah and the prayers in the Grand Mosque and the Prophet's Mosque will allow 20,000 Umrah pilgrims, 60,000 worshippers and 19,500 visitors per day.
Meanwhile, Saudi Gazette said the third group of Umrah pilgrims from Indonesia arrived in Makkah on Monday to perform Umrah rituals in the Grand Mosque.
Upon their arrival, precautionary and preventive measures for pilgrims were implemented to guard against the coronavirus