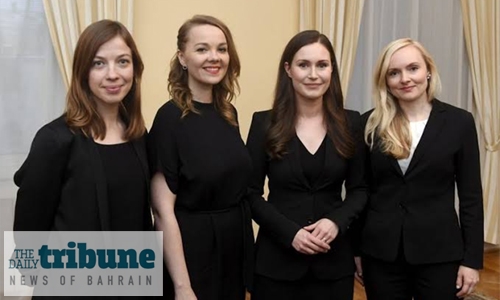 World's youngest leader takes office in Finland
Thirty-four-year-old Social Democrat Sanna Marin took office in Finland on Tuesday as the world's youngest serving prime minister, heading a coalition with four other parties led by women, all but one of them under 35. Marin won the confidence of parliament with 99 votes in favor and 70 against.
She replaced Antti Rinne, who resigned last week after the Center Party, one of the members of governing centre-left coalition, said it had lost confidence in him over his handling of a postal strike. "I want to build a society in which every child can become anything and in which every human being can live and grow old with dignity," Marin wrote on Twitter.
Twelve ministers in the new cabinet are women and just seven are men. The head of the Center Party, Katri Kulmuni, 32, becomes finance minister, Green Party leader Maria Ohisalo, 34, continues as interior minister and the Left Alliance's chairwoman Li Andersson, 32, remains education minister.
The Swedish People's Party's Anna-Maja Henriksson, 55, remains justice minister, the only coalition leader to finish school before the 21st century. Despite outward shows of harmony, divisions remain between the main coalition partners, Marin's Social Democrats and the Center Party.