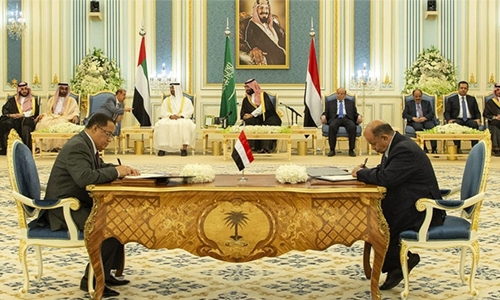 S audi Crown Prince Mohammed bin Salman yesterday hailed "a new period of stability in Yemen" as a power-sharing deal was signed in Riyadh between southern separatists and Yemen's internationally recognised government. "This agreement will open, God willing, broader talks between Yemeni parties to reach a political solution and end the war," the crown prince said at a televised signing ceremony.
"The Kingdom of Saudi Arabia stands with you. It's a joyful day … as the two sides come together." The agreement calls for the separatist Southern Transitional Council (STC) to be included in any political negotiations to end Yemen's four-year war, and for all military and security forces to be incorporated into the defence and interior ministries.
A new Cabinet will be formed, with the STC given several ministries, and the government of President Abed-Rabbu Mansour Hadi will return from Riyadh to Aden. Hadi took part in the signing ceremony on Tuesday with STC leader Aidarous Al Zoubeidi, watched by Prince Mohammed and Shaikh Mohammed bin Zayed Al Nahyan, the crown prince of Abu Dhabi.
The signing of the agreement in the presence of the Saudi and Abu Dhabi crown princes was of profound significance, Saudi political analyst Dr Hamdan Al Shehri was quoted by Arab News. "This is proof of the fact that the two leaderships are on the same page on Yemen," he said.
"It indicates that the agreement is built on solid foundations, and that it will have the desired positive effect on the ground among the Yemeni people." The agreement would allow both sides in southern Yemen to concentrate on combating the Iran-backed Houthi militias, Al Shehri said.