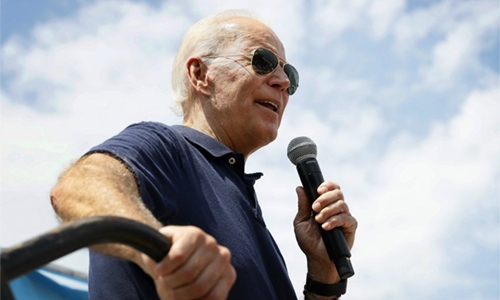 Biden calls for assault weapons ban, buyback programme
Former vice president Joe Biden, the frontrunner for the 2020 Democratic presidential nomination, called yesterday for reinstating a ban on assault weapons and including a buyback programme to get them off the streets. In a column in The New York Times, Biden also called for stricter background checks for gun buyers and greater use of "smart-gun technology" that allows a weapon only to be fired by its authorized owner.
"We have a huge problem with guns," Biden said in the article published about a week after mass shootings in El Paso, Texas, and Dayton, Ohio, left 31 people dead. Biden said that if he wins the 2020 presidential election, he would seek to reimpose a 1994 ban on assault weapons and high-capacity magazines. The 1994 law that banned assault weapons expired in 2004.
Biden said that besides stricter background checks for gun buyers he would "accelerate the development and deployment of smart-gun technology... so that guns are keyed to the individual biometrics of authorized owners."