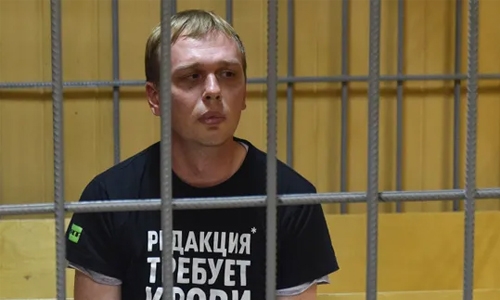 Russian dailies publish same cover over reporter's arrest
Three top Russian dailies yesterday published the same front page in an unprecedented act of solidarity over the arrest of an investigative reporter on drugs charges. "I am/we are Ivan Golunov," the Kommersant, Vedomosti and RBK newspapers declared in giant letters on their front pages.
Golunov, a 36-year-old investigative reporter with Meduza, an independent Russian-language media outlet, was detained last week over allegations that he manufactured and dealt drugs. Golunov faces between 10 and 20 years in prison if convicted.
In identical statements published on their front pages, the three newspapers said Golunov's prosecution was an act of intimidation against Russian society and demanded an investigation into the policemen who had detained him. Golunov was released from pre-trial jail at the weekend and placed under house arrest after hundreds of supporters gathered outside a Moscow courtroom.