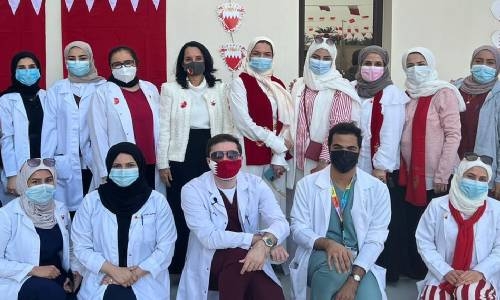 Bahrain - A proud participant in well-rounded healthcare
The Kingdom of Bahrain is considered a leading example in the area of well-rounded healthcare coverage, and it continuously receives regional and global praise regarding this matter. To add, the capital city of Manama is the first capital in the Middle East to be awarded the title of "Health City", as there is unquestionable care in primary healthcare services and in keeping up with the most recent updates in health as well as providing highly modern technology and medical equipment along with focusing on building and reinforcing the capabilities of healthcare providers to serve citizens and residents.
Primary Health Care is a key element in the health system in which it often is the first point of contact for patients and the bridge which links patients to all other specialties. Furthermore, some health centers will be operating over 24 hours in order to constantly provide the best health services all over the Kingdom.
Family Practice Residency Program (FPRP) ranks as one of the strongest programs established by the Ministry of Health in 1979 in affiliation with American University of Beirut and then the Royal College of Surgeons in Ireland and the Arab Board of Health Specializations. It was designed to meet the need of Bahrain for Family Physicians who are qualified, and to train those physicians to present developed primary health care to the country and the Bahraini community.
It is also the first program to be accredited by the Arab Board of Health Specializations. Doctors enrolled into the program undergo in depth training of four years' duration whereby they are prepared to become accredited specialists then consultants by means of acquiring analysis skills, publishing researches, linking theoretical knowledge to practice and developing communication as well as management skills.
The program also qualifies its training doctors to swiftly manage emergency cases, and encourages them to participate in conferences by mutual collaboration with speakers and regional and international parties to benefit from scientific and practical expertise and to develop such expertise thereafter.
Moreover, the program paves the way for its training doctors to work in various specialties in Salmaniya Medical Complex and in Primary Health Centers where their performance is continuously evaluated by supervising consultants, helping raise their efficiency. It is worth mentioning that since establishing the program, over 450 training doctors have graduated and are currently working in various therapeutic and preventative areas under Primary Health Care and Public Health.
I feel proud for joining this prestigious program which facilitates the most suitable environment for us be it on a professional or personal level, as the entire faculty from the establishers to the coordinators to my colleagues represent one family. Among the things that distinguish the Family Practice Residency Program is its focus on solidifying the ethical aspect of the profession and enhancing the utilization of effective communication skills, be it between the doctors as colleagues or between the doctors and the patients.
I would also like to thank the establishers and coordinators of the Family Practice Residency Program who to this day are devoting all their efforts to support us in achieving our goals and ambitions and in building a generation of Bahraini doctors highly experienced and capable of enhancing the quality of medical services, competing in local and international forums and carrying an active role in community health awareness.
The author, Dr Yusuf AlTahoo, is a resident family physician based in the Kingdom
(The views and opinions expressed in this article are those of the author and do not necessarily reflect the official policy or position of the Daily Tribune)