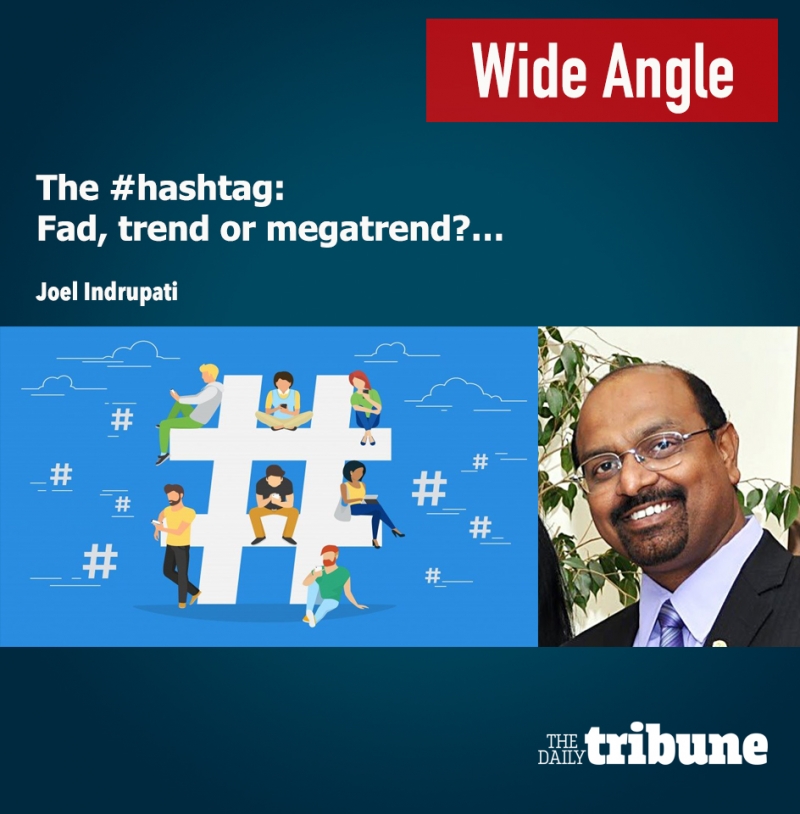 The #hashtag: Fad, trend or megatrend?
Slowly, but surely, the hashtag is growing in cyber- space to prodigious proportions.
If email has made the "at sign" or the "commercial at" or "@" symbol famous, social media has made the "hash sign" or "pound" or "#" symbol famous.
In this strange hashtag world – hang on, let me tag this write-up as #HashtagWorld - the importance of an issue or a topic is now measured by the number of times it gets tweeted, retweeted, or shared, within a certain time.
And hashtags in posts are helping users to quickly access millions of tweets and webpages that are 'trending'. All based on specific hashtag-ed words and phrases.
Twitter, Facebook and Instagram are all supporting hashtags now and they are helping us find, categorise, and sort our favourite topics, pictures, and postings.
It all started with Twitter actually. When in 2007, soft- ware developer Chris Messina proposed, in a tweet, that Twitter should begin grouping topics using the hash symbol.
Though Twitter initially rejected the idea, by October 2007 some citizen journalists had begun using the hashtag #SanDiegoFire, at Messina's suggestion, to tweet updates.
on a series of forest fires in San Diego. And the practice of hash-tagging took off. It left Twitter with no choice but to embrace it.
Even Facebook which was reluctant for long had to finally accept the use of hashtags from 2013.
Thanks to hashtags, we are now able to know what the world is talking about, quickly.
It is enabling social media analysts to know what people around the world, and people even in very specific regions of a large city are most interested in – actually, even at a certain point of time on a certain day.
It is also helping us understand what is really 'trending' and what is going 'viral'.
Recently, the hashtag #MeToo trend- ed for several weeks and many celebri- ties in Hollywood and many bigwigs in Politics had to run into hiding to escape the accusations from their victims of sexual harassment.
I remember our marketing professor who had explained to us, 'fad, trend and mega trend', during a lecture on Product Life Cycles.
Roughly speaking (1) a 'fad' quickly gains in popularity and may fade just as quickly (2) a 'trend' is a bit slower-paced than fad, but represents something that is occurring on a much wider scale and (3) a 'megatrend' is the long-lasting one, and can go on for years.
To paraphrase, if the fad of using snapchat filters may die out soon, the trend of using smartphones is unlikely to. And the mega trend of using hashtags may not go easily.
The use of hashtags is in fact a trend than is becoming a megatrend. Especially because the world is discovering how quickly it can see specific topics and specific webpages.
I found out that hashtags.org actually gives its users analytic tools to see the trends of several specific hashtags. But even without special tools, simple hashtag links are easy to track.
For instance, I checked the trends yesterday evening (Tuesday, 4 Feb at about 6 pm Bahrain time) on twitter for what people are posting. Among the top topics worldwide were K-pop singers' birthdays #HappyJiSungDay with 532000 tweets, and #OurMagicalMiracleTaehyun with 262000 tweets.
Compared to that #IowaCaucusDisaster was a mere 41,300 tweets. #coronavirus is trending too but with less tweets. Quite clearly, youth can skew the truth.
News journalists use these hashtags and drive some topics to trend. And of late, these hashtags are also being manipulated by political parties and their IT Cells.
So, it looks like we will be caught-up in this megatrend of #hashtagworld for long.