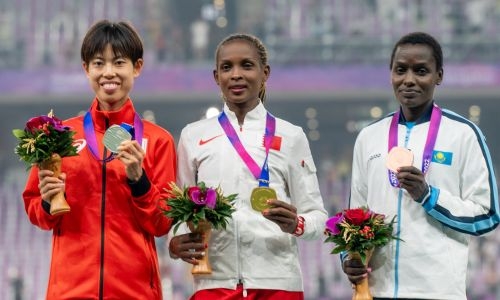 Bahrain's Violah Jepchumba bags Asian Games gold
TDT | Manama
The Daily Tribune – www.newsofbahrain.com
Bahrain came away with their first medal at the 19th Asian Games in Hangzhou, China yesterday—a gold captured by Violah Jepchumba in the women's 10,000 metres.
Violah put in a fantastic display in her race, leading for a majority of distance before crossing the finish line alone while clocking a new personal best.
With the result, the 32-yearold, who is the current Asian and Bahraini record holder in the half-marathon, bagged her first-ever Asiad medal.
Her victory is the highlight so far for the Kingdom's delegation at this year's Asian Games.
The gold medal propelled Bahrain to 22nd on the official medal table, and 27th ranking by total.
Violah started yesterday's final running side by side with fellow-Bahraini Bontu Rebitu behind Japanese athlete Ririka Hironaka.
But she wasted no time moving to the front and was in the lead with Bontu midway through.
Bontu, however, could not continue and Violah was left alone the rest of the way.
At the bell, she had nearly a quarter-lap gap from her closest rival and finished with a time of 31 minutes 43.73 seconds.
Violah shattered her old personal best of 34:33.62, which she set last year. Hironaka claimed the silver medal in 31:50.74, while Caroline Chepkoech Kipkirui of Kazakhstan won bronze in 33:15.83.
Also vying for a medal yesterday in the women's shot put was Bahrain's Noora Salem Jasim.
She was classified ninth overall with a best throw of 15.13 metres in her three attempts. Her only other recorded throw was 14.40m.
Lijlao Gong of China won gold with a 19.58m throw, while compatriot Jiayuan Song took silver on 18.92m.
India's Kiran Baliyan captured the bronze medal with a 17.36m best effort.
Sprinters
Meanwhile, also on the track yesterday, all six of Bahrain's sprinters made it past the first rounds of their respective events.
Former world champions Salwa Eid Naser and Kemi Adekoya both advanced to the women's 400m final.
Ex-world champ Edidiong Odiong made it to the medal round of the women's 100m, as did fellow-Bahraini sprinter Hajar Alkhaldi.
On the distaff, Bahrain's Abbas Yusuf Abbas marched through to the men's 400m final, and Saeed Alkhaldi went through to the men's 100m semi-finals.
In the women's 400m, Salwa, the event's 2019 world champion, won the first of three heats in a time of 52.52 seconds.
She was second-quickest from all eight athletes who qualified for the final, beaten out only by Kemi, who powered to the win in heat two with a new personal best of 50.53s.
Kemi was the 400m world indoor champion in 2016, and she and Salwa will be among the favourites to claim a medal in their final today, scheduled for 3pm, Bahrain time.
The other athletes to quali f y were N a - deesha Ramanayaka of Sri Lanka, Aishwarya Mishra of India, Valabouy Shereen Samson of Malaysia, Thi Minh Hanh Hoang and Thi Anh Thuc Hoang of Vietnam, and Laylo Allaberganova of Uzbekistan.
In the women's 100m, Edidiong and Hajar also had impressive performances in their heats.
Edidiong, the women's 200m under-20 world champion in 2016, came second in heat one and qualified with an 11.34s time, while Hajar won heat two with a similar mark of 11.34s, which was her season's best.
Hajar and Edidiong were the second and third quickest, respectively, amongst the eight qualifiers.
Manqi Ge of China topped the list with an 11.17s run, while joining them for today's medal race at 4.40pm, Bahrain time, are Yongli Wei of China, Supanich Poolkerd of Thailand, Veronica Shanti Pereira of Singapore, Hamideh Esmaeil Nezhad of Iran and Thi Nhi Yen Tran of Vietnam.
Hopes
In the men's 400m, Abbas came second in his heat in 45.77s to keep his medal hopes alive.
He was sixth-fastest in the first round, and will take to his lane in today's final at 3.10pm against Fuga Sato and Kentaro Sato of Japan, Kalinga Kumarage and Aruna Singhapurage of Sri Lanka, Yousef Masrahi of Saudi Arabia, Muhammad Ajmal Variyathodi of India and Ismail Abakar of Qatar.
Alkhaldi was one of 24 athletes to make it through to the men's100m semi-finals.
He took third in heat four yesterday with a time of 10.23s, which was fourth-best for the stage.
There will be three semi-final races today starting from 2.30pm, Bahrain time.
Alkhaldi will be competing in the first sprint, and will need to finish in the top two, or be one of the next two fastest from all the heats, to make it through to the final, which is also set for today at 4.55pm, Bahrain.
Amongst Bahrain's other athletes today, Dawit Fikadu and Birhanu Balew will aim for the podium in the men's 10,000m final at 3.20pm, Bahrain time.
Aminat Jamal and Zouhair Aouad will also be in action. Aminat will race in the women's 100m hurdles round one heats, while Aouad will compete in the men's 1,500m first round heats.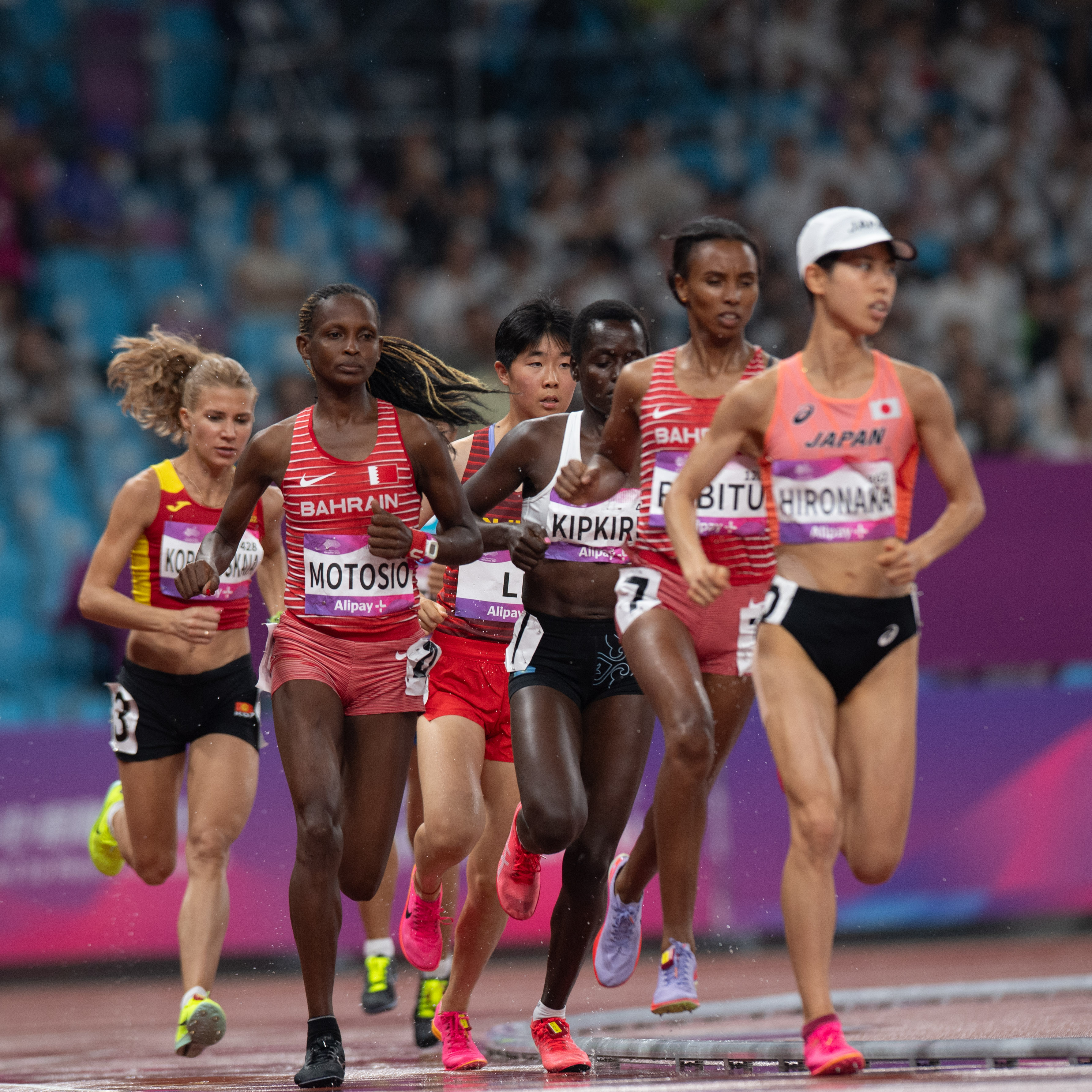 Bahrain's Violah Jepchumba competes amongst other runners during the women's 10,000m final