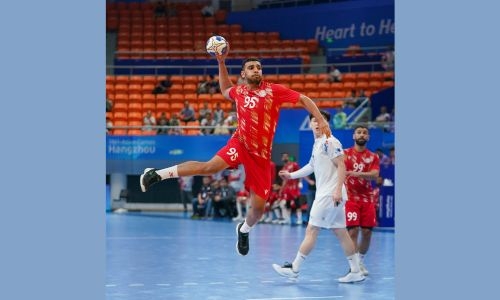 Bahrainis edge past South Korea
TDT | Manama
The Daily Tribune – www.newsofbahrain.com
Bahrain continued their winning ways yesterday in the men's handball tournament at the 19th Asian Games in Hangzhou, China.
The Kingdom's senior national team edged past their counterparts from South Korea 29-26 in their opening fixture in Group One of the competition's main round.
The nationals had a strong start in the game and led 4-0, but the South Koreans fought back and briefly took an 8-7 lead with a Changeun Ku goal.
But the Bahrainis closed out the opening half strong and after a Hussain Al Sayyad conversion that broke a 10-all deadlock, back-to-back goals from Hasan Madan and Ali Mirza made it three unanswered for a 13-10 advantage at the break.
In the final 30 minutes, both teams matched each other point for point and the nationals held on for the win.
Mirza pegged the final score with a goal just four seconds from the final buzzer. Al Sayyad was Bahrain's top scorer with 11 goals, while Mohammed Habib Ahmed and Mohammed Habib Naser each contributed five.
Mirza finished with three and Mahdi Saad had two, while Madan, Hasan Al Samaheeji and Mohammed Mirza all had a goal apiece.
Star goalkeeper Mohammed Abdulhussain also played a key role, making 12 saves in the contest.
For the South Koreans, Dong-Hyun Jang and Hyeonsik Lee had six goals each to pace their team. The win put Bahrain atop the Group One table after the first game day.
In yesterday's other divisional tie, Kuwait beat Iran 24-22.
The Bahrainis are back in action today against the Iranians in a match scheduled for a 9am throw-off, Bahrain time.
South Korea and Kuwait face off at 1pm, Bahrain. Group Two features Japan, Kazakhstan, China and Qatar.
At the end of a single round-robin, the top two nations from each group move on to the semi-finals, which are scheduled to be held on Tuesday.
The gold and bronze medal games will then take place on Thursday