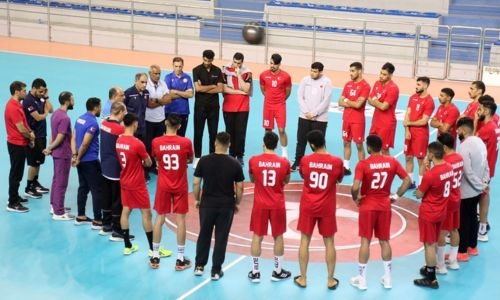 Bahrain juniors enter final preparations for handball worlds
TDT | Manama
The Daily Tribune – www.newsofbahrain.com
Bahrain's junior national handball team have entered the final stages of their preparations locally before heading to Europe for their participation in the 2023 IHF Men's Junior World Championship.
The worlds are scheduled to be held in Germany and Greece from June 20 to July 2.
The Bahrainis are set to travel to Athens for their final lead-up to the competition.
There, they will hold a training camp and play a number of warm-up games against their counterparts from Greece and Morocco, along with other teams.
Bahrain Handball Association (BHA) president Ali Issa visited the squad during a local training session under head coach Essam Abdulla and his assistant Raed Al Marzouq.
The BHA chief encouraged the players to put in their best effort in the tournament and represent Bahrain handball to the best of their abilities.
Abdulla has been training with a roster of 22 players, including Abdulla Abdulkarim and Komail Fouad from Najma; Sadiq Jaafar and Hussain Ali from Tubli; Ahmed Redha, Ahmed Alwani and Jassim Khamis from Shabab; Mustafa Al Hayki, Hassan Khalil, Ahmed Al Zain and Hussain Al Hawaj from Ahli; Ali Al Asheeri, Hesham Isa and Mahmood Abdulhussain from Al Dair; Mohammed Hameed, Ali Jameel and Ali Mahmood from Al Ettifaq; Yasser Mohammed and Ali Madan from Barbar; Ali Redha and Ali Al Fardan from Tadhamun; and Mohammed Al Khunaizi from Al Ettihad.
The junior nationals are in Group F for the worlds, alongside Sweden, Slovenia and Greenland. There are 32 teams in all competing, divided into eight pools of four for the preliminary round.
Group A features France, Poland, Croatia and the US. Group B comprises Algeria, Germany, Tunisia and Libya. Group C consists of Portugal, Brazil, Kuwait and Costa Rica; while Group D includes Spain, Faroe Islands, Japan and Angola.
Group E features Hungary, Denmark, Argentina and Norway; while Group G comprises Serbia, Morocco, Chile and Iceland. The field is completed by Egypt, Greece, Cuba and Saudi Arabia in Group H.