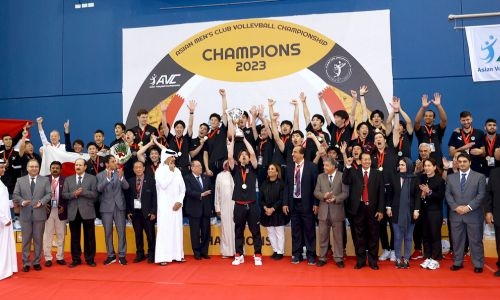 Japan's Sunbirds shine brightest in Bahrain
TDT | Manama
The Daily Tribune – www.newsofbahrain.com
Japan's Suntory Sunbirds were last night crowned champions of the 2023 Asian Men's Club Volleyball Championship, which came to a spectacular close in the Kingdom of Bahrain.
The Sunbirds secured their maiden continental crown—and the first-ever title for any Japanese team in the tournament— with a resounding 3-1 (28-26, 25- 23, 23-25, 25-17) victory against Jakarta Bhayangkara Presisi of Indonesia in a hugely exciting final, played in front of a large crowd at Isa Sports City in Riffa.
Police Sports Team from Qatar claimed the bronze medals after defeating Shahdab Yazd of Iran in the game for third place.
Bahrain Olympic Committee (BOC) board member and Bahrain Table Tennis Association president Shaikha Hayat bint Abdulaziz Al Khalifa and Bahrain Volleyball Association (BVA) president Shaikh Ali bin Mohammed Al Khalifa, the tournament's control committee chairman Emile Jabbour, along with officials from the Asian Volleyball Confederation (AVC), BVA and other regional volleyball leagues, were on hand for the championship-decider.
They presented the awards post-game to the medallists, along with special trophies for the best individual performers.
In the gold medal match, Sunbirds star Dmitriy Muserskiy was a force to be reckoned with, finishing with a game-high 31 points while making some crucial plays that helped decide each set.
Cuban Alain Junior de Armas added 26 for the Japanese, while Mohammadjavad Manavinezhad scored 22 to pace the Indonesians, with Ugandan Daudi Okello scoring 21.
The result earned the Sunbirds their first Asian clubs title, and in doing so claimed the lone place from the event to the 2023 FIVB Volleyball Men's Club World Championship, happening later this year in India.
The Sunbirds had finished as the silver-medallists twice in the past, including in last year's edition and earlier in 2001.
Furthermore, the Sunbirds became the first Japanese club to win this prestigious championship.
"After being second place last year, I really wanted to win it this time and now that we have done it, I am very happy," said Sunbirds head coach and former Japan national team player Kota Yamamura. "After taking the third set against Iran in the semi-finals yesterday, I thought that we could win the title.
We realised this past week in Bahrain that the level of Asian volley is now very high. "Tonight's final was very difficult; the Indonesians played very well and were tough, but we were able to do it in the end.
"I am really grateful we were able to play in the nice environment Bahrain prepared for us.
I am glad we are the first team ever to win this competition from Japan, and that we got our tickets to the clubs world championship.
"We will do our best as Team Asia, and show what we can do." Bhayangkara were also gunning for their first-ever Asian clubs title.
Instead, they are forced to settle for their maiden silver medals, while also marking the first time an Indonesian outfit has finished as the runners-up.
In the clash for the bronze medals, Qatar's Police gave up the first set but roared back for a 3-1 (24-26, 25-16, 25-20, 25-19) victory.
Estonian Oliver Venno had 25 points to lead the winners while Turkish ace Efe Bayram contributed 18. Tavana Saeed Javaheri was the top scorer for Shahdab with 15 points, while Malati Mohammad Sadeghi chipped in with 14 in the loss.
Police claimed their first-ever podium in the tournament and the fifth bronze medals for a Qatari side.
They join three-time bronze-medallists Al Arabi and Al Rayyan, who claimed third once.
Shahdab's fourth place classification marked only the second time in the 23 editions of the Asian clubs competition that an Iranian team did not finish in the top three. The only other time was in 2001 in China.
Finishing fifth overall were Kuwait Sports Club.
They battled past South Gas Sports Club of Iraq in their classification fixture, falling behind twice in the game but staying resilient until the end.
They eventually finished their opponents off in the tie-break for the final 3-2 (23-25, 29-27, 15-25, 25-18, 15-11) score line.
Iranian star Saber Kazemi had a 34-point performance for the Kuwaitis while teammate Mohammad Salem Alsuwaid finished with 11.
For the Iraqis, Muntadher Yasir scored 19 while Bulgarian Todor Skrimov finished with 13 in defeat.
Korean Air Jumbos Pro-Volleyball Club claimed seventh place overall after defeating Bayankhongor Crownd Geo VC of Mongolia 3-0 (25-21, 25-23, 25-18).
Hanyong Jeong was their top scorer with 19, while Minjae Kim contributed 10 points in the win. Batsuuri Battur had 15 to pace Bayankhongor, with Khangal Tamiraa scoring 11.
Clinching ninth place amongst the 16 teams were Bahrain's Al Ahli, who needed to dig deep to overcome Atyrau VC of Kazakhstan 3-2 (25-17, 21-25, 25-15, 21-25, 15-11).
Brazilian Gabriel Candido had a game-high 28 points for the home side, while Bahraini star Mohammed Yaqoob scored 23.
Vitaliy Vorivodin top scored with 14 for the Kazakhs, while Belarusian Artur Udrys finished with 12.
In the match for 11th place, Taichung Bank from Chinese Taipei defeated Canberra Heat from Australia 3-0 (22-25, 20-25, 26- 28).
Yu-Sheng Chang finished with a game-high 27 markers for triumphant Taichung, while Rayshon Jackman had 13.
Trent O'Dea and Matthew Kemp were Canberra's top scorers, finishing with 11 and 10 points, respectively.
Taking 13th overall were Diamond Food Fine Chef-Air Force of Thailand, who swept Kam Air Afghanistan 3-0 (27-25, 25-21, 25-20).
Chaiwat Thungkham and Brazilian Evandro Dias De Souza combined for 41 of the Thais' points, with Thungkham posting 21.
Ghulam Rasool Hidari paced the Afghans with 16 points, while Momin Malekzada and Esmatullah Ahmadi scored eight apiece.
Khaypil Sports Club of Yemen finished 15th after rallying from two sets down to beat Aspiring Volleyball Team from Hong Kong, China 3-2 (22-25, 31-33, 25-14, 25-23, 22-20).
It was a seesaw affair, in which Gamal Khairalah scored a tournament-high 52 points, for the Yemenis.
Amr Elawwad chipped in with 17. Wai Lung Lam had 19 to lead Aspiring while Chi Leung Poon scored 18.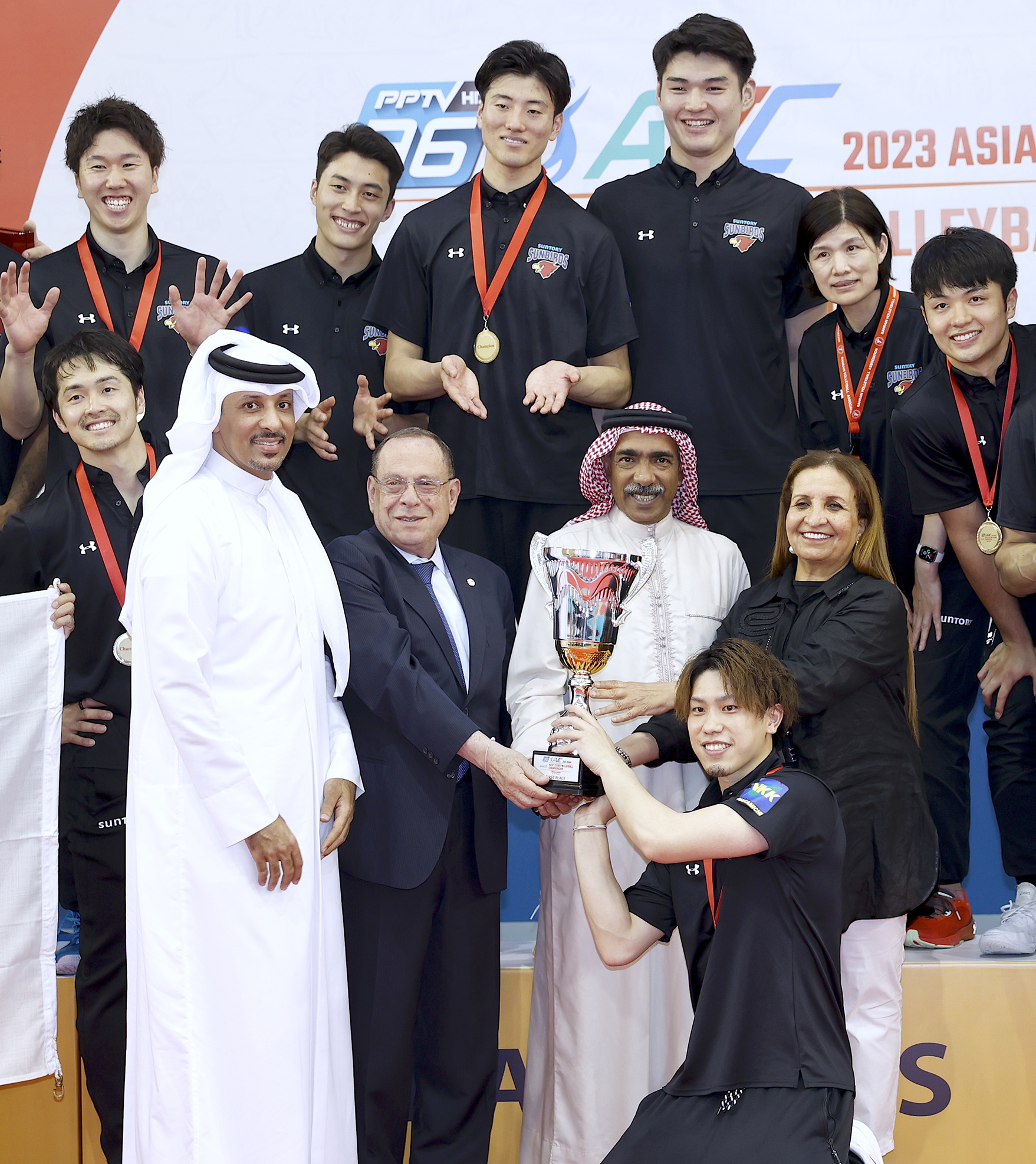 Shaikha Hayat bint Abdulaziz Al Khalifa, Shaikh Ali bin Mohammed Al Khalifa, Emile Jabbour and other officials present the champions' trophy to the Suntory Sunbirds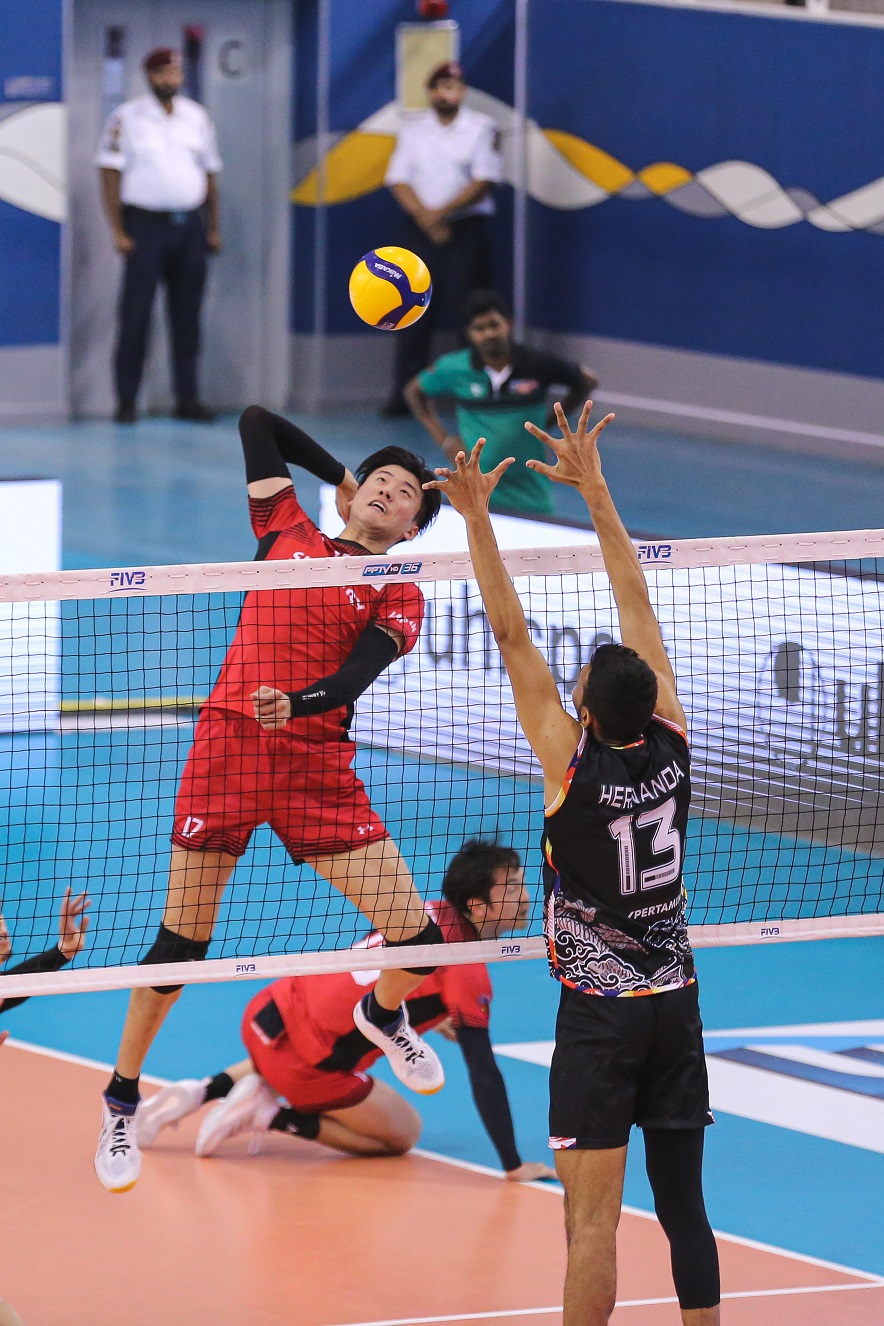 Suntory Sunbirds middle blocker Hiroki Nishida looks to attack their rivals in last night's final