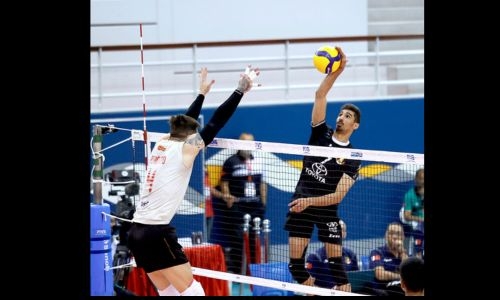 Sunbirds, Police lead the way!
TDT | Manama
The Daily Tribune – www.newsofbahrain.com
Japan's Suntory Sunbirds and Qatar's Police Sports Team headline today's semi-finalists in the 2023 Asian Men's Club Volleyball Championship, currently being hosted by the Kingdom of Bahrain.
The Sunbirds and Police both won their respective quarter-final pools yesterday and head into the knockouts as the only unbeaten teams remaining in the competition.
The Sunbirds will take on Shahdab Yazd of Iran in a mouth-watering final four encounter, while Police will face Jakarta Bhayangkara Presisi of Indonesia in the other game.
Both contests highlight today's exciting programme at Isa Sports City in Riffa.
The day's action is scheduled to begin from 11.30am and continue until the night, with the last fixtures set for 7pm starts. Entrance is free to all games.
The Sunbirds secured first place in quarter-final Pool E after taking care of business against Bhayangkara. Russian Dmitriy Muserskiy had a gamehigh 17 points for the Japanese while Cuban Alain Junior de Armas chipped in with 15.
"This was a great victory," said de Armas. "We are doing a great job. I hope we keep this up until the finals.
We are in great shape but I think that we can do better and everyone is giving their best on the court.
"Whoever we face in the semi-finals is strong. But we have come to play and to win. We respect everyone, but we expect to win."
Daudi Okello from Uganda scored 14 points to pace the Indonesians in the setback, while Farhan Halim finished with nine markers.
"We lost today to a stronger team and a more composed team than us," said Okello.
"We hope that tomorrow we play our A game. We need to work on our serve and receive, and even our blocking is still shaky. "All of us in the semi-finals are good teams. We've fought so hard to be in the top four. It doesn't matter who comes our way, we are ready to flex."
Qatar's Police won their Pool F fixture against Shahdab in a fiveset thriller that went nearly twoand-a-half hours.
The Qataris won the opening set but then conceded the next two, before roaring back for a scintillating 3-2 (25-20, 22-25, 22-25, 25-23, 15-12) result.
Croatian Petar Dirlic had 26 points to lead Police, while Nikola Vasic added 17 and Youssef Oughlaf 12.
For the Shahdab, Amir Ghafour scored 18 and Meisam Salehi chipped in with 14. Dirlic said post-game: "Even though we've already qualified for the semi-finals, we knew it was a really important game for us and we wanted to continue our winning streak.
"We believe that whoever we have to play against in the semi-finals, we are the better team, and we're trying to show this in each match."
In yesterday's other quarter-final Pool E clash, Korean Air Jumbos Pro-Volleyball Club defeated Mongolia's Bayankhongor Crownd Geo VC 3-1 (25-21, 22-25, 25-16, 25-19).
Hanyong Jeong scored 22 points while Jun Lee added 14. For the Mongolians, Khangal Tamiraa was the top scorer with 19 points, while Bayarsaikhan Batsukh contributed 13 in the loss. South Gas Sports Club of Iraq followed suit in Pool F with a 3-0 (25-21, 25-21, 25-19) victory over Kuwait Sports Club.
Serbian Nikola Meljanac top scored with 18 points while Bulgarian Todor Skrimov finished with 15 for the Iraqis.
For Kuwait, Russian Roman Danilov had 16 points and Iranian Saber Kazemi and Omar Abdulrahman Alenezi both finished with six.
Jumbos are set to take on Kuwait while Bayankhongor face South Gas today in fifth-toeighth placement games.
Consolation pools
Bahrain's Al Ahli Club completed their consolation Pool G campaign with a resounding 3-0 (25-19, 25-23, 25-20) victory.
Mohammed Anan impressed with a game-high 23 points while Mohammed Yaqoob added 16.
Chaiwat Thungkham paced the Thais with 14 and Brazilian Evandro Dias de Souza contributed 13 markers.
The Bahrainis wrapped up this stage with the full nine points from three games and are now headed for the ninthto-12th placement bracket in their final two assignments of the championship.
There, they will be joined by Australia's Canberra Heat, who defeated Khaypil Sports Club of Yemen 3-1 (25-18, 16-25, 25-16, 25-23) in today's other Pool G affair.
Matthew Aubrey scored 23 points while Trent O'Dea had 17.
Gamal Khairalah finished with 26 points for the Yemenis while Egyptian Essa Mohmed Elhossiny scored 15.
The Yemenis will contend for places 13 to 16, along with the Thais.
Also in the ninth-to-12th placement bracket are Atyrau VC of Kazakhstan Taichung Bank from Chinese Taipei.
The Kazakhs defeated their Taichung rivals 3-1 (35-33, 20-25, 25-20, 31-29) in a tightly contested consolation Pool H clash last night.
Zhaxsylyk Tleulin had 23 points and Vitaliy Vorivodin chipped in with 23 in the victory. Yu-Sheng Chang had a fine performance of 35 points in the losing effort, while Rayshon Jackman had 12.
With the result, the Kazakhs topped Pool H. In the group's other match yesterday, Kam Air of Afghanistan defeated Aspiring Volleyball Team from Hong Kong, China 3-0 (25-23, 25-17, 25-12).
Ghulam Rasool Hidari scored 15 points while Sayed Habib Yousufi had 12 for the Afghans. Yin Chun Lee was the top scorer for Aspiring with 11, while Chi Leung Poon added 10 markers. Despite their win, Kam Air are set to compete for 13th through 16th places, along with Aspiring.
Japan's Suntory Sunbirds team celebrate their win
Qatar Sports Team after their victory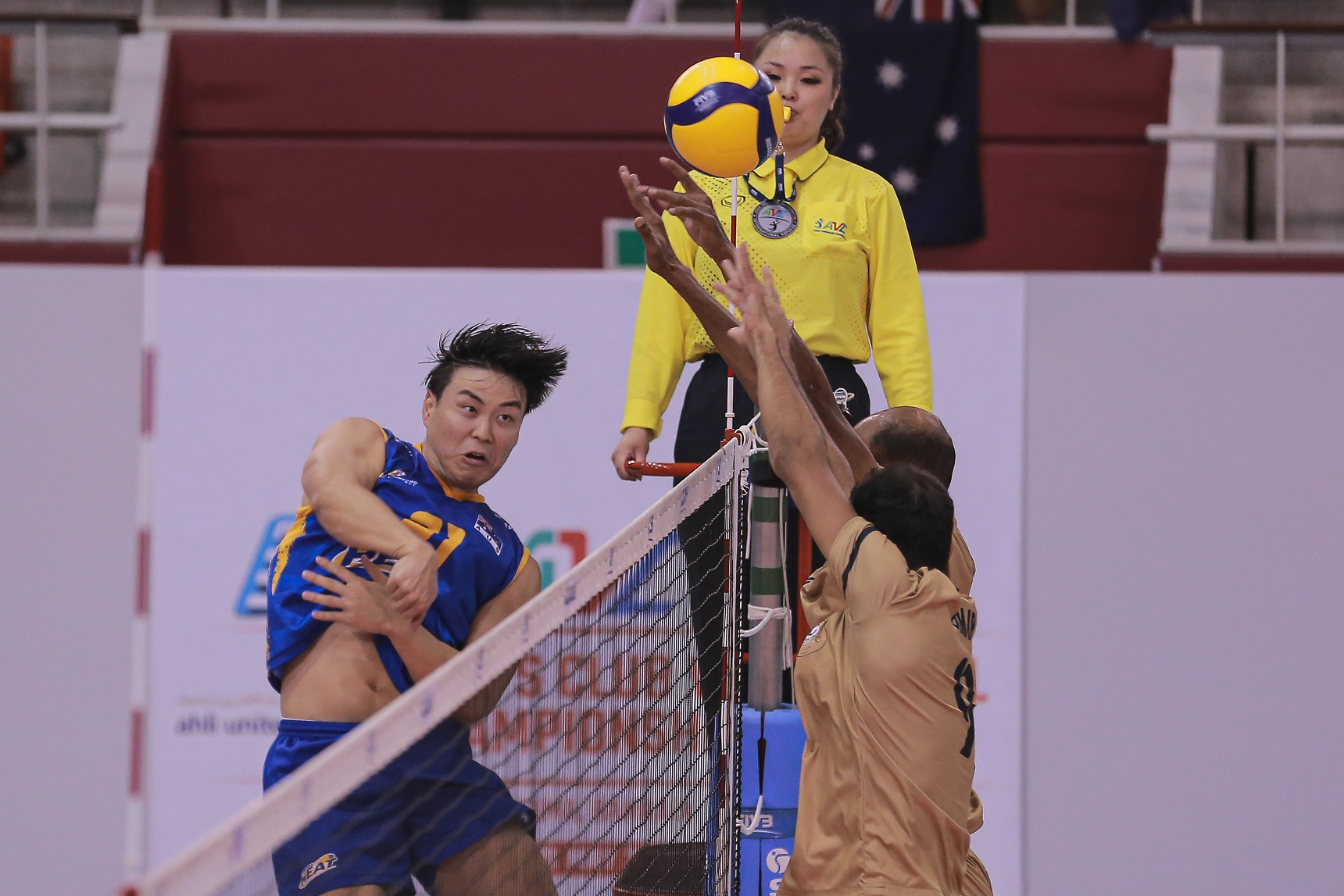 Canberra Heat's Kevin Phang hits a spike against Yemen's Khaypil