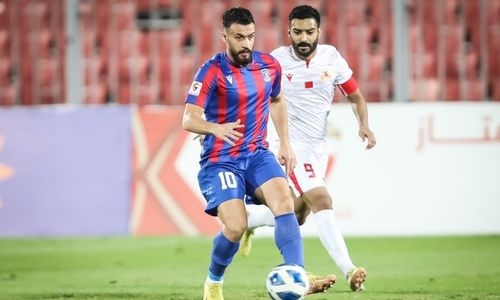 Manama win big in Nasser bin Hamad football league
TDT | Manama
The Daily Tribune – www.newsofbahrain.com
Manama romped to a 5-3 victory over East Riffa last night while Al Khalidya and Al Hala played to a 2-2 stalemate to wrap up the fourth week of action in the 2022/2023 Nasser bin Hamad Bahrain Premier League. Mahdi Abdulajabbar and Mohammed Al Marmour scored a brace apiece for Manama in their big win.
Their other goal was supplied by East Riffa's Omar Duaij, who fired into his own net.
In Manama's triumph, it was East Riffa who took the lead when Jassim Khelaif sent the ball into the bottom-left corner of goal in the 30th minute with a poorly hit shot that should have been cleared.
But Manama made up for that gaffe with five unanswered goals.
Abduljabbar was first to strike in the 35th minute from the six-yard box to equalise heading into the break.
Then, in the 51st minute, Duaij accidentally sent the ball into his own net on a loose possession that rebounded off his shin.
Eight minutes later, Manama made it 3-1 with Al Marmour's first goal from an acute angle, before a defensive blunder by East Riffa gave Al Marmour another opportunity to score the very next minute from the edge of the penalty area.
Manama made it five on a brilliant counter-attack in the 63rd minute that ended with Abdulajabbar receiving a shot back-heeled pass from Al Marmour, and then firing in to the top-right corner of the net.
East Riffa got one back in the 68th minute with Hamza Idris tapping home from the face of goal, and then they reduced the deficit once more through Laith Hashim with just five minutes remaining in regular time. That was as close as it got, however, as Manama came away with only their first win of the season after four tries to move up to five points on the standings.
East Riffa, on the other hand, suffered their first loss after drawing all three of their previous games, staying on three points. Meanwhile, in last night's other match, Sami Frioui and Mahdi Humaidan were on target for Khaldiya while Waleed Al Tayeb and Alain Eyenga scored for Hala.
Frioui gave Khaldiya a dream start with the first goal in just the third minute when he received a brilliant cross from deep on the left wing and needing only to tap the ball home with his second touch.
But Hala were able to level the proceedings through Al Tayeb, who scored in the 61st minute from close range after doing well to evade his defender.
Hala then took the lead from the penalty spot in the 83rd minute with Eyenga scoring past Khaldiya's Bahrain international goalkeeper Sayed Shubbar Alawi, until Khaldiya were awrded their own penalty two minutes from regular time, coolly converted by Humaidan.
Khaldiya were dealt their first draw as they went to seven points for second place on the table, while Hala stayed winless and came away with their third stalemate for three points.