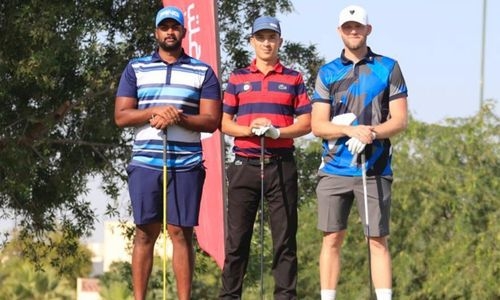 White leads King Hamad Trophy
TDT | Manama
The Daily Tribune – www.newsofbahrain.com
Joshua White rose to the top of the leaderboard yesterday heading into the final round of play today in the 14th King Hamad Trophy golf championship, currently being played at The Royal Golf Club.
The Briton carded a second day's best of eight-under-par 64 to register an 11-under-par total of 133 after 36 holes.
Only the concluding 18 holes remain in the 54-hole competition, and White has led a field of 46 players who have made the cut for the last round.
White's second-day outing included 10 birdies and two bogeys.
He posted a brilliant frontnine score of 30 before going for a 34 on the back. White thus heads into the last day with a single-stroke lead over compatriot Harry Goddard, who played a six-under-par 66 yesterday to go 10-under 134 over two rounds.
Goddard carded seven birdies on the day and a single bogey.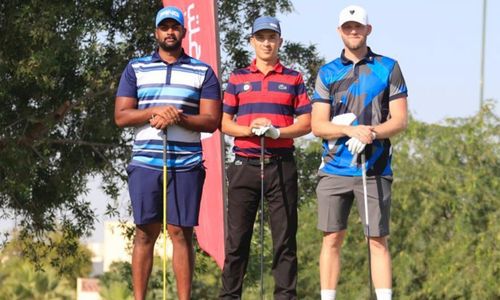 Going tied-third a further two shots behind on eight-under 136 totals were amateur Hugh Foley from Ireland, and two-time former champion Luke Joy along with fellow-Briton Max Smith.
Joy and Smith were amongst three joint-leaders after the first round along with Moroccan Mehdi El Fakori, but El Fakori dropped yesterday to tied-seventh although stays within reach of the top contenders.
Ranked sixth was Jake Ayres with a seven-under-par 137 total, while tied with El Fakori in seventh was Gabbe Axell from Sweden.
Tom Sloman was ninth on a five-under-par 139 total while tied-10th were amateur ChingHung Su from Chinese Taipei, Oliver Jacobson from Sweden and Russell Chrystie from Great Britain.
They all had four-underpar 140 scores after two rounds. Cut Three Bahraini players made the cut for today's final 18 holes of play.
They included Khalifa Daij Al Kaabi in tied-24th with a one-under-par 143 score, Fahad Abdulla Al Hakam in tied-40th with a five-over 149 total, and Khalifa Al Merisi in tied-44th with a six-over-par 150 total.
Al Merisi was one of three players level as the last three players to make the cut.
The others were fellow-amateurs Rabeh Bedoui of Morocco and James Lanceley from Great Britain.
Defending champion Ahmed Marjan from Morocco was among the players to qualify.
He was among seven players ranked tied-17th with two-under-par 142 scores.
Today's final round is scheduled to get underway at 7am with the first group of players teeing off.
Following play, the awards presentation and closing ceremony will be held.
The tournament's main sponsor is Batelco. Gold sponsors include Alba, Khaleeji Commercial Bank and Foulath.
Silver sponsors are Bahrain Economic Development Board, BBK, Security Solutions and GPIC. It has been organised by the Bahrain Golf Association.