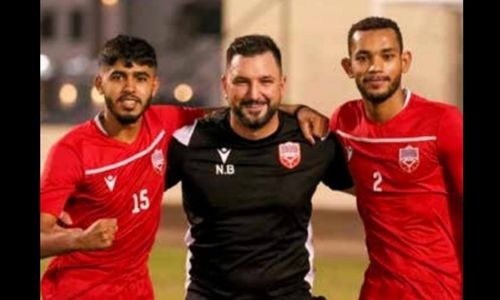 Bahrain Olympic football team kick off latest training camp
TDT | Manama
The Daily Tribune – www.newsofbahrain.com
Bahrain's Olympic football team kicked off their latest training gathering last night at the Bahrain Football Association pitches in Riffa, with a 26-player squad called up by Croatian head coach Dario Basic. The under-23 nationals have their sights set on the qualifiers for the AFC U23 Asian Cup 2024, which will be held next year. Basic's call-ups include Ahmed Rabea, Mohammed Faris, Saleh Al Zubaidi, Nasser Ebrahim and Omar Saber from Muharraq; Salem Hussain, Ali Mohammed Redha, Hussain Al Ekri, Sayed Jawad Haider and Hassan Abduljani from Al Shabab; Mustafa Al Salem and Abdul Al Rahman Mohammed from Manama; Ahmed Musalam, Hassan Issa and Hassan Taha from Al Malkiya; Vincent Emmanuel and Ahmed Abdulhameed from Sitra; Hussain Abdulkarim and Ali Aldoseri from Isa Town; Adel Al Rumaihi from Al Najma; Salman Abdulla from Riffa; Sayed Mahdi Sharaf from Al Ahli; Basher Fouad from Budaiya; Ammar Mirza from Al Ettihad; Abdulrahman Al Kooheji from Al Hala and Khalil Ebrahim from Tadhamon.
Their ongoing camp is scheduled to continue until September 27. The AFC U23 Asian Cup is the premier continental event for Olympic teams. Bahrain have taken part in the tournament just once in the past in 2020, when they did not make it past the group stage.
The 2024 tournament will mark the sixth edition. The last event was played in June of this year in Uzbekistan, and Saudi Arabia were crowned champions among the 16 participating nations. Bahrain did not qualify. The Bahrainis are also preparing for other upcoming competitions in their age group aside from the AFC U23 Asian Cup qualifiers.