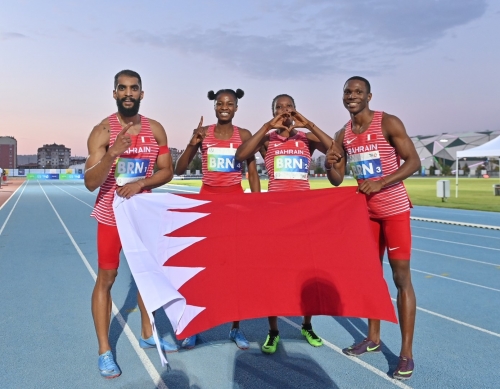 Bahrain strike gold in cycling, athletics at fifth Islamic Solidarity Games
TDT | Manama
The Daily Tribune – www.newsofbahrain.com
Bahrain's top sportsmen and women continued to ascend up the podium yesterday at the fifth Islamic Solidarity Games in Konya, Turkey, after winning five more medals—including two gold—to bring their four-day tally at the multi-sport competition to 15.
Yesterday's haul included gold medals in road cycling and athletics, as well as two silver medals and one bronze, also in athletics. Bahraini rider Ahmed Madan headlined yesterday's action with his gold in the men's individual time trial.
The 4x400 metres Mixed Relay team of Ali Khamis, Zenab Moussa Ali, Musa Isah and Muna Mubarak then shared in the limelight, taking gold in their event on the track. The silver medals yesterday were claimed by Bontu Rebitu in the women's 5,000m and Edidiong Odiong in the women's 200m; while the bronze medal was clinched by Ruth Jebet in the same race as Bontu.
The Kingdom's national team competing at the Games have now bagged 15 medals in all, including seven gold, five silver and three bronze. That put Bahrain in sixth overall on the medal table amongst the 57 competing nations at the Games.
Hosts Turkey are currently in first place with 60 medals, including 26 gold, while Iran are second with 30 medals, including nine gold, and Kazakhstan third with 16 medals, including six gold. Uzbekistan and Azerbaijan are fourth and fifth, respectively, just ahead of Bahrain.
In road cycling yesterday, Madan came away with his impressive achievement after taking the men's individual time trial gold medal. The young Bahraini rider, who is a member of the Bahrain Victorious professional cycling team and who has made history becoming the first-ever Bahraini to compete on the UCI World Tour, completed the 25-kilometre event in a time of 30 minutes 18.977 seconds.
Fellow-Bahraini Ahmed Naser was also taking part in the time trial. He placed 10th overall with a time of 31:54.791.
Relay gold
Meanwhile, in athletics, the 4x400m Mixed Relay squad were in a class of their own, taking gold in a time of 3:17.40.
It was the second gold of the Games for Muna, who had also won an individual title in the women's 400m. In the women's 5,000m, Bontu clinched her silver medal ahead of Ruth; while in the women's 200m, Edidiong won her women's 200m silver medal in 22.27 seconds.
Bontu came away with her second silver medal of the Games after previously finishing as runner-up in the women's 10,000m, while Edidiong's silver medal added to her gold in the women's 100m. Ruth, meanwhile, had her second bronze medal in Konyu after previously winning the same in the women's 10,000m.
Bahrain will be looking to add more medals today when they continue their participation in the various sports. Also yesterday, Bahrain's Zouhair Aouad qualified for the men's 1,500m final, which will be held today as part of the concluding day of action in the athletics competition.
Elsewhere, Bahrain's athletes in shooting and wrestling were also in action but did not medal. Bahrain are competing in six sports at this year's Games, including athletics, shooting, judo, cycling, wrestling and weightlifting.
Bahrain's Ahmed Madan celebrates with his gold medal from road cycling's individual time trial.
Bahrain's Ali Khamis encourages teammate Zenab Moussa Ali as he passes her the baton in their relay final yesterday