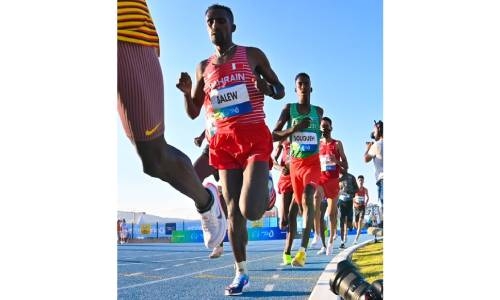 Bahrain athletes bag four medals in Konya
TDT | Manama
The Daily Tribune – www.newsofbahrain.com
Bahrain bagged four medals yesterday on the opening day of the athletics competition at the fifth Islamic Solidarity Games, being held in Konya, Turkey.
Birhanu Balew headlined the winners, capturing a gold medal in the men's 5,000 metres. Bontu Rebitu also won a silver medal in the women's 10,000m while Ruth Jebet claimed a bronze in the same race.
Abdelrahman Mehmoud then completed the Kingdom's medal winners with a bronze in the men's shot put. The athletics events at the Games continue until Friday.
Meanwhile, sprinters Abdulraof Rashid and Baraka Abdo qualified for the semi-finals of the men's 100 metres. Rashid clocked a mark of 10.27 seconds in his heat, while Abdo had a mark of 10.04s. On the distaff, Edidiong Odiong and Hajar Alkhaldi both advanced to the women's 100m semi-finals.
Edidiong had a time of 10.96s in her race, while Alkhaldi clocked a mark of 11.15s. In the women's 400m, Muna Mubarak marched through to the medal round with a qualifying time of 52.41s in her heat. In the men's 400m, Abbas Ali and Musa Isah punched their tickets to the semi-finals. Abbas had a mark of 46.25s.
Opening
Today, the official opening ceremony of the fifth Islamic Solidarity Games will take place. It will be held at 8pm, Bahrain time, at Konya Metropolitan Municipality Stadium. The inauguration will see the participation of athletes, both men and women, from all 57 competing countries.
Leading up to the opening events, Bahrain Olympic Committee secretary general Faris Al Kooheji attended the general assembly of the Islamic Solidarity Sports Federation (ISSF). The meeting was chaired by ISSF president Prince Abdulaziz bin Turki Al Faisal.
Al Kooheji also visited the training sessions of Bahrain's shooting national team. The Kingdom's top sportsmen and women are flying the Bahrain flag in six sports at this year's Games, including athletics, shooting, judo, cycling, wrestling and weightlifting.
The Bahrainis are looking to add to its impressive medal haul from past editions of the Games. National athletes had won 28 medals in the multi-sport event, which had taken place in 2005, 2010, 2013 and 2017. The Bahrainis claimed 14 gold medals, six silver and eight bronze medals in all.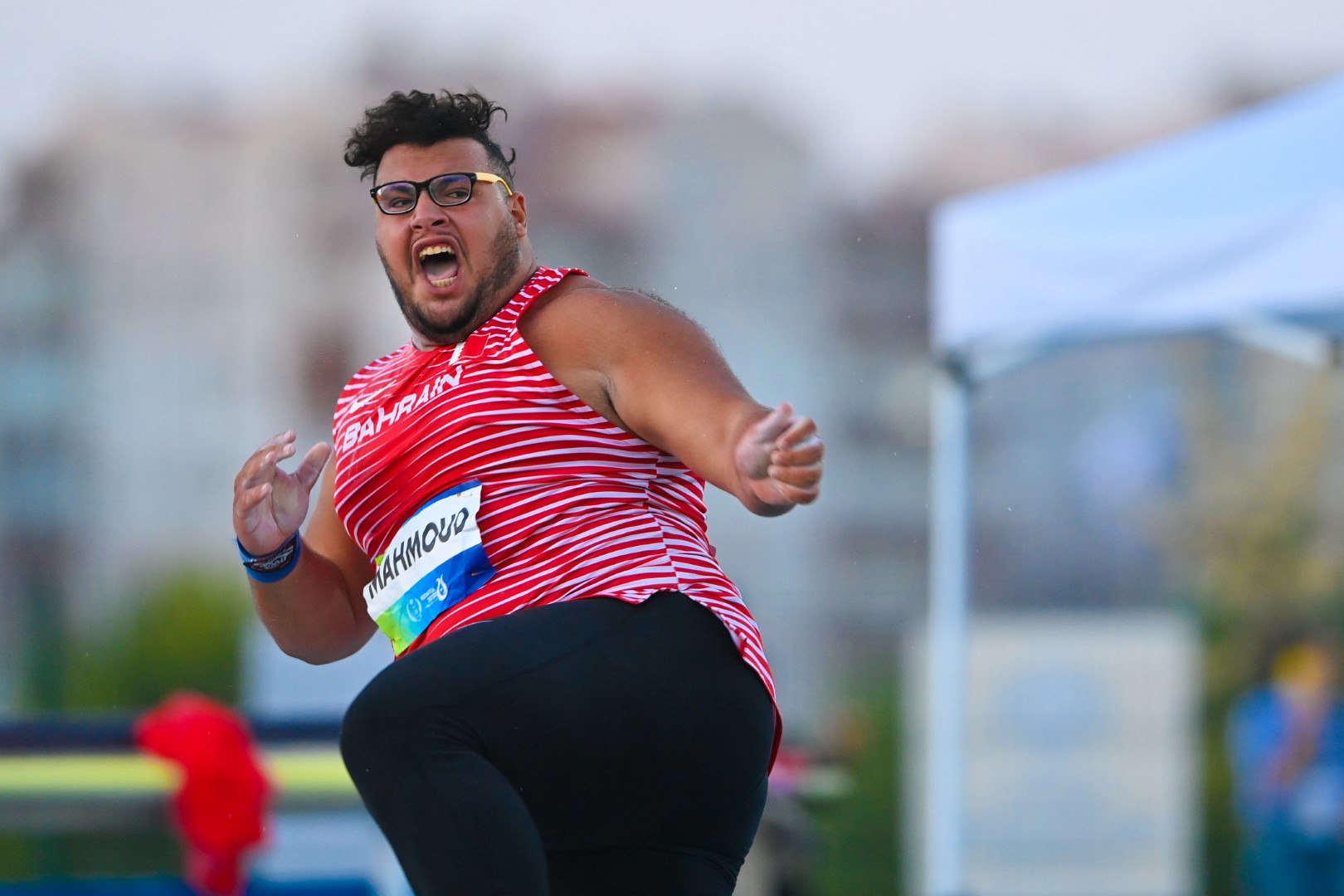 Abdelrahman Mahmoud reacts after one of his throws during the men's shot put final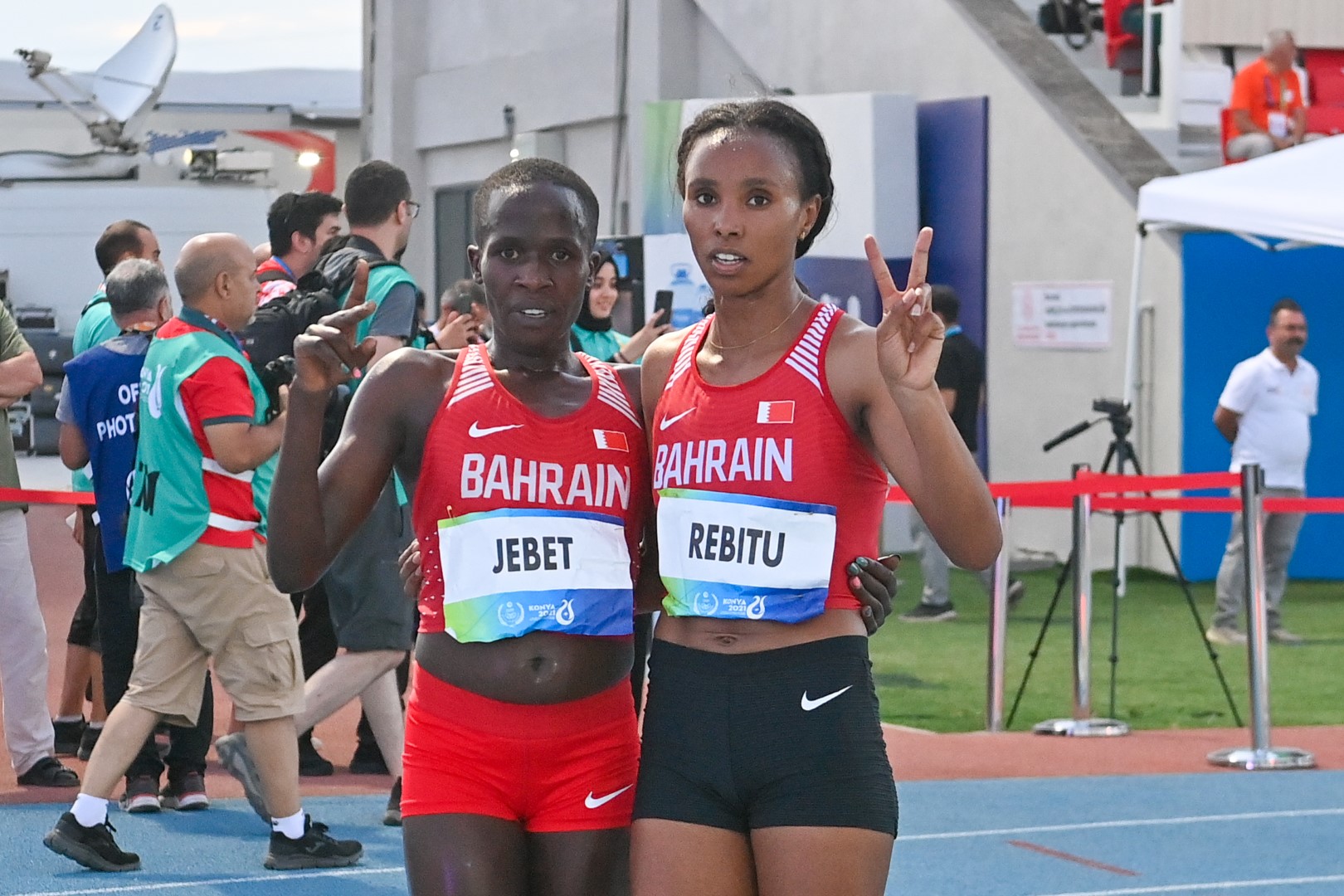 Bahraini women Bontu Rebitu, right, and Ruth Jebet, celebrate after their 10,000m race