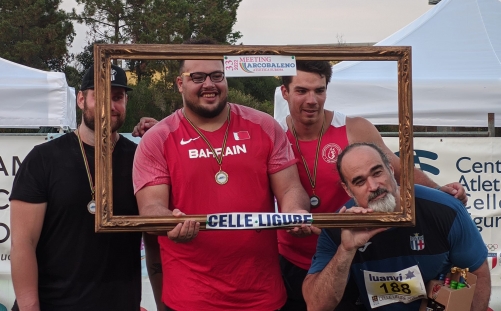 Bahrain's Mahmoud, Aminat excel in Italy meet
TDT | Manama
The Daily Tribune – www.newsofbahrain.com
Bahraini elite athletes Abdelrahman Mahmoud and Aminat Jamal both put in fantastic performances in the 33rd Arcobaleno Atletica Europa meeting at Celle Ligure, Italy this week. Mahmoud took an impressive first place in the men's shot put while Aminat claimed second in the women's 400 metres hurdles.
The meeting was a Challenger event held as part of this year's World Athletics Continental Tour. Many of the international track and field's top names were competing at the event. Mahmoud overcame some stiff competition in the shot put but was able to claim the victory with a throw of 19.95 metres.
The result earned him his third successive victory of the year, having also claimed first place at a meeting in Turkey in April and then winning the men's shot put gold medal at last month's third GCC Games in Kuwait.
Viktor Gardenkrans of Sweden finished second with a best throw of 18.41m, while Giordano Musso took third with a mark of 15.73m.
Meanwhile, Aminat finished a close runner-up in her 400m hurdles race, where she clocked a time of 57.36s. Grace Claxton of Puerto Rico took the win in 55.67s, while Anje Nel of South Africa came behind Aminat in 59.90s.
Aminat's mark was her second-best time of her season. She had previously clocked 57.25s in another race held earlier this month. Like Mahmoud, she too had won a gold medal at the GCC Games. Mahmoud and Aminat were the only two Bahrainis competing in Celle Ligure.