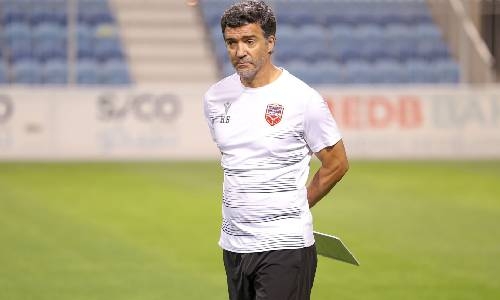 Bahrain kick off national team training locally tonight
TDT | Manama
The Daily Tribune – www.newsofbahrain.com
Bahrain's senior men's national football team kick off this evening their latest training gathering ahead of their AFC Asian Cup 2023 qualifiers next month.
The nationals are set to play in Group E of Asian Cup qualification alongside Turkmenistan, Bangladesh and Malaysia in Kuala Lumpur. The games will be played over a single round on three matchdays, including on June 8 against Bangladesh, on June 11 against Malaysia, and on June 14 against Turkmenistan.
The Bahrainis will be holding an overseas training camp as part of their final lead-up to the qualifiers in Bangkok. Following a few days of training locally, they are scheduled to fly to the Thai capital in the evening of May 17.
Bahrain's training camp in Thailand is scheduled to continue until May 31. During their stay, they will be playing a training game on May 24, in addition to an international friendly against their Thai counterparts on the 31st.
Bahrain head coach Helio Sousa has named a 23-member senior men's national football team for their upcoming overseas camp. The team currently does not include any top names from national champions Riffa and top side East Riffa, as they will be busy with their clubs competing in the group stages of this year's AFC Cup competition.
The players called up include Ali Haram, Abdulla Hazaa, Abdulla Yousef, Mahdi Humaidan, Ahmed Abdulla, Ahmed Bughammar, Mohammed Adel, Mohammed Hardan, Sayed Dhiya Saeed, Sayed Shubbar Alawi, Abdulwahab Al Malood, Amine Hasan, Rashed Al Hooti, Waleed Al Hayam, Sayed Mohammed Jaafar, Mahdi Abduljabbar, Ammar Abbas, Mahdi Abdullatif, Ebrahim Khattal, Abbas Ayyad, Jamal Rashid, Mohammed Abdulwahab and Abdulaziz Mohammed.