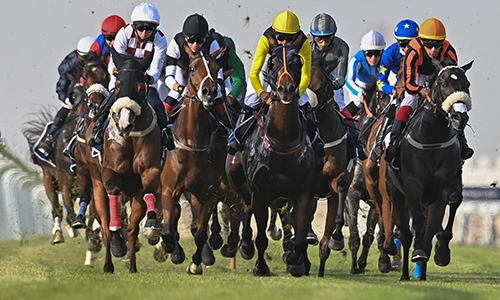 Stellar card set at Sakhir horseracing track
TDT | Manama
The Daily Tribune – www.newsofbahrain.com
A stellar eight-race programme, headlined by the first two of 10 events in the all-new Bahrain Turf Series, is set to be held tomorrow at Rashid Equestrian and Horseracing Club (REHC) in Sakhir.
The Bahrain Turf Series races are scheduled to be the third and fourth of the day, with each offering a staggering £50,000 in prize money.
In race three, the Al Manama Cup will be up for the taking.
It is an event for imported horses rated 80 to 100, and it will be held over seven furlongs.
Fourteen contenders are entered, including Kinks, Maystar, Mission Boy, Sonja Henie, Breath of Air, Happy Craf, Mobaadel, Al Fajir Mukbile, Tamerlane, Wonder Elzaam, Inveigle, King's Knight, Natural Path, Yousini, Al Maquina and Zezenia.
Meanwhile, the fourth race will be for the Al Muharraq Cup, which is also for imported horses rated 80 to 100.
Fifteen contenders are in the fray for the event, including Dawaam, Classical Wave, Howzer Black, Macaque, Magical Wish, Bond's Boy, Dark Lion, Forbidden Land, Ace Rothstein, Arqoob, Giustino, Mars Landing, Wait Forever, Brains and The Emperor Within.
The entrants of both events are representing a number of top owners, including Victorious, Al Mohamediya Racing, Al Adiyat Racing, Abdulla Fawzi Nass, MKAR Racing and George Baker Racing Bahrain Syndicate, to name a few; as well as leading trainers such as George Baker, Hesham Al Haddad, AM Smith, JS Moore, Charles Hill, Michael Bell, Jamie Osborne, Haider Ebrahim and Jaber Ramadhan, among others.
A number of renowned jockeys are competing in both races, including Martin Seidl, David Egan, John Egan, Paddy Mathers, Lee Newman, Neil Callan, Abdulla Faisal, Hussain Makki, Eoin Walsh and Saffie Osborne.
Prestigious Elsewhere tomorrow, the six other races will each have on offer a prestigious cup, along with impressive prizes.
In the eighth and final race, the National Day Cup, sponsored by the Ministry of Information Affairs, will be held over 12 furlongs with a BD10,000 prize.
Among the competing imported horses dubbed with a chance to win are Medal Winner of Al Mohamediya Racing, Recovery Run of Al Adiyat Racing, and Hold Sway of Ramadhan Stable.
In the seventh race, also for imported horses, a HH Shaikh Khalid bin Hamad Al Khalifa Cup will be up for grabs.
It will be held over a distance of eight furlongs with a BD10,000 prize, and the three pre-race favourites are Byline of Al Adiyat Racing, Coolagh Forest of MKAR Racing and Beauchamp Bagenal of KHK Racing.
The sixth race is also for a HH Shaikh Khalid bin Hamad Al Khalifa Cup, and it is to be held over a six-furlong straight with a BD10,000 prize.
Buffer Zone representing Victorious, Dark Shadow of Al Mohamediya Racing and Ibn Arabi of Al Afoo Racing are tipped to have a chance amongst the field of imported horses.
Another HH Shaikh Khalid bin Hamad Al Khalifa Cup will also be won in the day's first race, set over eight furlongs with a BD3,000 prize.
Kuheilan Afas 1708 owned by Victorious, Kuheilan Afas 1695 of Al Wasmiya, and Al Saqlawy 1772 of Al Riffa are the favourites.
The other two races of the day offer the HH Shaikh Faisal bin Khalid bin Hamad Al Khalifa Cup in race five, to be held over 11 furlongs with a BD4,000 prize.
Campolina, Living Art and News Breaker are the favourites.
In race two for the HH Shaikh Abdulla bin Khalid bin Hamad Al Khalifa Cup over six furlongs and a BD3,000 prize, Breathtaking, Ramani and Shamikh are tipped with a chance.