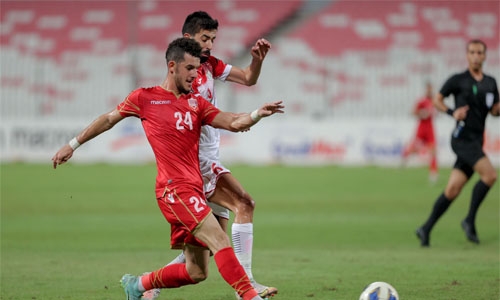 Bahrain bow to Jordan in friendly
TDT | Manama
The Daily Tribune – www.newsofbahrain.com
Bahrain suffered a 1-2 loss to Jordan last night in an international friendly match at the National Stadium in Riffa. The nationals were in sub-par form for much of the evening, failing to keep possession and allowing the Jordanians a number of scoring opportunities.
But the home team picked things up a notch with 20 minutes remaining and were able to get onto the score sheet with a penalty in stoppage time from Mohammed Jassim Marhoon. It was too little too late, however, as goals on either side of the break from Jordan's Ali Olwan and Baha Seif were enough to give them the win.
The match was part of both teams' preparations for their upcoming competitions, which include the FIFA Arab Cup taking place this December. It was the second friendly for the Bahrainis in a week.
They had previously faced Haiti in a match they dominated and won 6-1. Last night's game wrapped up the national team's latest training gathering.
Head coach Helio Sousa kicked off the contest with a completely different starting 11 from the one that faced Haiti. Between the posts was Ebrahim Lutfallah, while in defence were Sayed Mahdi Baqer, Abdulla Hazza, Ahmed Mirza and Hazza Ali.
A five-man midfield featured skipper Sayed Dhiya Saeed, Jassim Al Shaikh, Mahdi Humaidan, Abbas Alasfoor and Jassim Khaleef; while Sayed Hashim Issa was the lone striker.
Jordan opened the scoring in the 15th minute when Olwan tapped the ball home off a cross from the right wing supplied by teammate Ehsan Haddad.
Later in the first half, Lutfallah prevented the Bahrainis from going down by two goals with a brilliant save on a shot from Jordanian captain Odai Alsaify, who looked almost certain to score from close range.
Jordan were still able to double their advantage just seconds into the second half, as forward Baha Seif fired in from close range with an assist from Olwan.
The Bahrainis raised their level towards the end of the contest following the introductions of Komail Alaswad, Ali Madan, Mohammed Jassim Marhoon, Mohammed Al Rumaihi and Ali Haram.
Both Madan and Rumaihi came close but were just inches off target. The Bahrainis were then awarded a penalty in the first minute of stoppage time after a foul in the box.
Marhoon stepped up to take the spot kick and sent the ball home to the left of the net. The nationals pressed until the final whistle to find an equaliser, but Jordan were able to hold on.