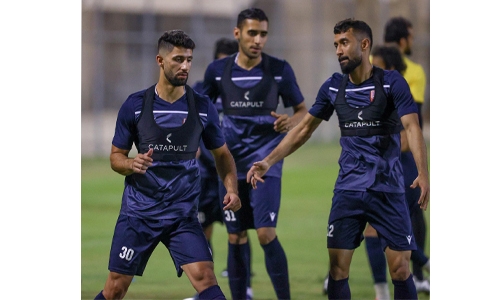 Bahrain all set to host joint-qualifiers for FIFA World Cup 2022 and AFC Asian Cup 2023
TDT | Manama
The Daily Tribune – www.newsofbahrain.com
Bahrain is all set to host starting tomorrow the remaining Group C matches in joint qualifying for the FIFA World Cup 2022 and AFC Asian Cup 2023.
All the participating national teams have already arrived in the Kingdom and are in their final lead-up to the start of the action. A total of eight fixtures over four match days will take place at stadiums in the next couple of weeks.
Tomorrow, Iran and Hong Kong kick things off with a match at 5.30 pm to be held at Shaikh Ali bin Mohammed Al Khalifa Stadium in Muharraq Club.
Then, at 7.30 pm, Bahrain faces Cambodia at the National Stadium in Riffa. Matches will also be held on June 7, 11 and 15 at both venues.
The Bahrainis will return to the pitch on June 7 against Iran and then on 15 against Hong Kong, both at the National Stadium. The national team have been training nightly since Sunday at the Al Ahli Club Stadium in Zinj under the supervision of head coach Helio Sousa and his staff.
The Portuguese tactician has a squad of 26 players preparing for the qualifiers, including Ali Haram, Ali Madan, Hamad Shamsan, Hashim Isa, Jassim Al Shaikh, Kumail Alaswad, Mahdi Humaidan, Mohammed Marhoon, Redha Isa, Sayed Baqer and Sayed Shubbar Alawi from Riffa; Abdulwahab Al Malood, Ismaeel Abdullatif, Sayd Mohammed Jaafar and Waleed Al Hayam from Muharraq; Ahmed Bughammar, Ahmed Mirza and Mohammed Abdulwahab from Hidd; Abdulla Hazaa and Mohammed Al Rumaihi from East Riffa; Rashed Al Hooti from Al Najma; Jassim Khulaif from Budaiya; Ahmed Nabeel from Manama; Abbas Fadhel from Al Shabab; Ebrahim Lutfallah from Al Khaldiya; and overseas-based professional Sayed Dhiya Saeed from Al Nasr SC in Kuwait.
All head coaches of the four teams competing tomorrow will be holding Press conferences today morning at Muharraq Club. The Bahrainis head into play currently second in the group with nine points.
Iraq is the leaders with 11, while Iran is third with six, and Hong Kong and Cambodia complete the Group C table with five points and one point, respectively.
There are eight groups all in this round of qualifiers, with five nations in each group. At the end of this stage of qualification, the eight group winners and the four best runners-up advance to the third round of World Cup qualifying, and also secure their berths in the Asian Cup. The next best 24 teams will play in a separate competition for the remaining 12 slots in the Asian Cup.
Match Schedule
Thursday, June 3
5.30 pm: Iran vs Hong Kong, Shaikh Ali bin Mohammed Al Khalifa Stadium
7.30 pm: Bahrain vs Cambodia, National Stadium
Monday, June 7
5.30 pm: Iraq vs Cambodia, Shaikh Ali bin Mohammed Al Khalifa Stadium
7.30 pm: Iran vs Bahrain, National Stadium
Friday, June 11
5.30 pm: Cambodia vs Iran, National Stadium
7.30 pm: Hong Kong vs Iraq, Shaikh Ali bin Mohammed Al Khalifa Stadium
Tuesday, June 15
7.30 pm: Bahrain vs Hong Kong, National Stadium
7.30 pm: Iran vs Iraq, Shaikh Ali bin Mohammed Al Khalifa Stadium