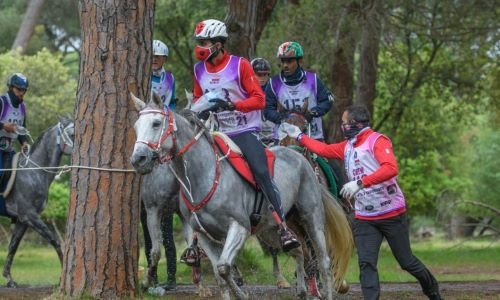 HH Shaikh Nasser bin Hamad praised royal care for equestrian sports
TDT | Manama
The Daily Tribune – www.newsofbahrain.com
His Majesty the King's representative for humanitarian work and youth affairs Shaikh Nasser bin Hamad took part in the FEI Endurance World Championship in Pisa, Italy.
He led the Royal team jockeys Jaffer Mirza, Raed Mahmoud, Abdulrahman Al-Zayed and Manal Fakhrawi who competed in the 160-kilometre international race, which was held today, Saturday.
He stressed the importance of the Royal Team's participation, paying tribute to His Majesty King Hamad bin Isa Al Khalifa for his role in developing the equestrian sports in the Kingdom of Bahrain.
He also lauded the keen interest of His Royal Highness Prince Salman bin Hamad Al-Khalifa, the Crown Prince and Prime Minister to promote the Kingdom at major sports events and arenas in line with the 2030 Bahrain Economic Vision.
He commended the Royal Team which took part in the championship, alongside 80 jockeys representing thirty-two countries from different countries in the world.
"The Royal Team was able to compete strongly to achieve the best results in the tournament, alongside world champions ", said HH Shaikh Nasser bin Hamad, adding Bahrain's participation would be reviewed and evaluated.
"Our focus will be on the upcoming participation in world championships, European races and others, especially the Windsor Championship", he said, looking forward to achieving the team's ambitious goals.
HH Shaikh Nasser bin Hamad withdrew before the fourth stage of the 160-kilometre international race after his horse sustained an injury during the first three phases. HH Shaikh Nasser preferred to rest the horse instead of participating and complicating the injury.
Al Zayed Abd Mahmoud competed in the first stage and finished among the first jockeys but their horses could not pass the vet test at the end of the second phase.
Jaffer Mirza fell from his horse which skidded during the fourth stage, which forced him to withdraw from the race.
Manal Fakhrawi managed to complete five stages but was unable to participate in the last round even though she was in fourth place in the ranking because the horse did not pass the veterinary examination before the sixth and final stage.
UAE national team jockey Salem Al Ketbi won the World Endurance Championship title, followed by his compatriot Saeed Al Mansouri came in second place and the Chilean Fiyada Boni.