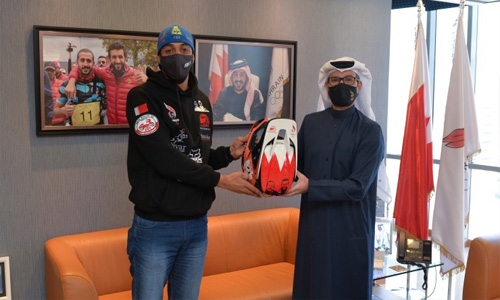 Bahraini Salman Mohammed to take part in Dakar Rally in Saudi Arabia
TDT | Manama
The Daily Tribune – www.newsofbahrain.com
Motorcycle racer Salman Mohammed will take part in the Dakar Rally, which will kick on Sunday and run until the 15th of January in the Kingdom of Saudi Arabia.
Bahrain Olympic Committee (BOC) Secretary-General Mohammed Hassan Al-Nusuf received Salman Mohammed who is stepping preparations to take part in the 2021 edition.
He expressed the committee's support to all champions representing Bahrain in major events, in line with the directives of HH Shaikh Nasser bin Hamad Al-Khalifa, HM the King's Representative for Humanitarian Works and Youth Affairs, Supreme Council for Youth and Sports (SCYS) Chairman and HH Shaikh Shaikh Khalid bin Hamad Al-Khalifa, SCYS First Deputy Chairman and BOC President.
Salman Mohammed became the first Bahraini motorcycle racer to take part in the famed Dakar Rally which was held in the Kingdom of Saudi Arabia in 2019.
The second edition of the Dakar Rally in Saudi Arabia will rev into action on Sunday morning (January 3), setting off from the Red Sea coastal city of Jeddah, and returning to the city on January 15.
Spread across 7,646km, the 12 stages will cross some of Saudi Arabia's most demanding and untouched terrain as competitors perform a full loop around the Kingdom.
The BOC chief Al-Nusuf praised the key role of Bahrain Motor Federation, chaired by Shaikh Abdulla bin Isa Al Khalifa, in supporting motorsports in the Kingdom.