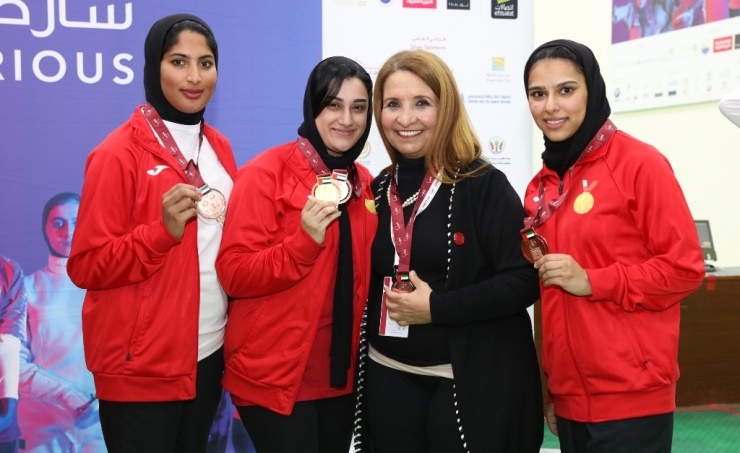 Bahrain lifts tally to 12 medals in Arab Women's Games
Bahrain Shooting Club made a strong debut in the 5th Arab Women's Games, being held on February 2-12 in Sharjah, the United Arab Emirates.
Mooza Abdulrahim Bucheeri bagged a gold medal in the 10-metre-long competition, at the Sharjah Women's Sports Club arena.
Mooza set a personal record totaling 564 points, up by 13 points compared to her performance in the previous edition of the pan-Arab championship.
Mooza who retained her Arab title, was followed by Emirati Wafa Al-Ali and Omani Wadha Al-Balooshi who finished second and third respectively.
The Bahraini shooting team also bagged the bronze medal after finishing third in the contest. The Bahrain shooting team, which shone in the championship, is made up of Mooza Abdulrahim Bucheeri, Badriya Al-Attawi and Mariam Al-Qassimi.
Sharjah Prevention and Sustainability Authority director Shaikh Mohammed Al-Qasimi and Sharjah Police Commander in chief Major-General Saif Mohammed Al-Zari crowned the winners, in the presence of Bahrain's delegation chairperson Shaikha Hayat bintAbdulaziz Al-Khalifa.
Shaikha Hayat expressed her delight at the performance of the champion Mooza Abdulrahim Bucheeri who won the gold medal, congratulating the Bahraini team on bagging the bronze medal.
Bahrain's overall tally now includes 12 medals – 3 gold medals, 3 silver and 6 bronze – on the third day of the championship which opened last Monday (February 2).
A'ali table tennis team also bagged the gold medal thanks to Mariam Abdulla Al-Ali, Fatima Abdulla Al-Alai, which Amrita Bahdaqi was disqualified by the organization committee which contested her registration.
A'ali team defeated Sharjah club to clinch the Arab title. Mariam Abdulla defeated Maisa Nader Mohammed (3/0) and Noora Hassam Al-Mazmi (3-2). Her teammate Fatima Abdulla edged past Noora Hassan Al-Mazmi (3-).
A'ali lost its second match to Kuwaiti "Al-Fatat" team 3-2, before beating Saudi Jeddah team 3-1 in the third match.
In the fourth match, A'ali defeated Algerian Sports Association 3-1 in a thrilling showdown. The day ended on a high note as A'ali rallied to Saudi Riyadh team 3-1 sealing the final victory for Bahrain.
Fixtures
Volleyball: Al-Ahli will play a Jordanian team on Friday at 1 pm Bahrain (2 pm UAE time).
Al-Ahli lost the first two matches to the Petroleum team of Algeria and Al-Wasl of the UAE.
Riffa, which lost its first match to Al-Fahees of Jordan, will take on Syrian Al-Sahel in its second match on Friday at 11 pm (Bahrain Time).
Riffa was drawn in Group A with Sporting (Egypt), Al-Fahees (Jordan) and Al-Sahel (Syria). Group B includes Al-Ahli (Bahrain), Al-Amal (Tunisia), "Al-Fatat" (Kuwait, Elite (Saudi Arabia) and Petroleum (Tunisia).