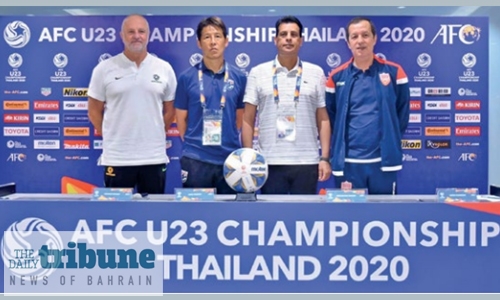 Bahrain kick off AFC U23 campaign
Bahrain are aiming to make history and qualify for the men's football tournament of the Summer Olympic Games for the first time, says Olympic team head coach Samir Ben Chammam as the Bahrainis begin their campaign today in the 2020 AFC U23 Championship in Thailand.
Bahrain are making their debut in the prestigious Asian Football Confederation (AFC) tournament, which also acts as the continental qualifying competition for this year's Tokyo Olympics. Only the top three national teams from the field of 16 book their tickets to Japan, and despite the massive challenge ahead of them, Ben Chammam is confident they can make history. "My team is Bahrain's future and we have been preparing for the competition since 2017," he said yesterday during his pre-tournament Press conference in Bangkok.
"I trust my players and I believe we have a great chance to make history and qualify for Tokyo 2020." Bahrain are the only team competing for the first time in the under-23 championship. They are in Group A for the preliminary round along with Australia, Iraq and hosts Thailand. They kick off their campaign against the host Thais today in a match scheduled for a 4.15pm kick-off, Bahrain time.
The game will be played at Rajamangala National Stadium in Bangkok. Ben Chammam expressed his delight to be playing in the championship amongst the best under-23 teams in Asia, and is looking forward to facing Thailand in their first fixture. "I think we are lucky to be playing our opening match against Thailand, a game that will be interesting and one which will see the host team receiving a lot of support," he said.
"However, we faced similar circumstances in Indonesia last year during a friendly tournament and we know what to expect and that we must concentrate fully for 90 minutes to ensure we get the three points." Ben Chammam said that Bahrain will do their best to win their game against the Thais. He noted that his players are totally focused on winning and that they are ready to give their very best for the full 90 minutes.
He added that their roster includes three players who were a part of the victorious men's national squad that won the 24th Arabian Gulf Cup last month, namely Mohammed Marhoon, Mohammed Al Hardan and Ahmed Bughammar – and said their presence gives their team a boost.
The rest of the squad includes Abdulrahman Al Ahmadi, Faisal Ibrahim, Hamza Al Jabn, Hassan Alkarani, Ahmed Sherooqi, Hussain Jameel, Ahmed Saleh, Abdulaziz Khalid, Adnan Fawaz, Hamad Shamsan, Sayed Hashem Isa, Hassan Madan, Ahmed Fadel, Abbas Alasfoor, Sayed Mohammed Ameen, Jassim Khleef, Yousef Habib, Anwar Ahmed, Salem Adel and Ammar Mohammed. Meanwhile, the pre-tournament technical meeting was held yesterday.
Representing Bahrain were Olympic team director Shaikh Ahmed bin Isa Al Khalifa, manager Abdulla Al Mutawa, media coordinator Ahmed Mahdi and other officials. Following their opening match today, the Bahrainis play Iraq on Saturday before closing out their group campaign against Australia on Tuesday next week. Also today, Iraq and Australia face off at a different venue. Bahrain must finish in the top two in Group A to advance to the quarter-finals.
Group B consists of Qatar, Japan, Saudi Arabia and Syria; Group C features defending champions Uzbekistan, South Korea, China and Iran; and Group D comprises Vietnam, North Korea, Jordan and the UAE. The last eight will be played on January 18 and 19, followed by the semi-finals on January 22. The match for third place will be held January 25 and then the gold medal game the following night.