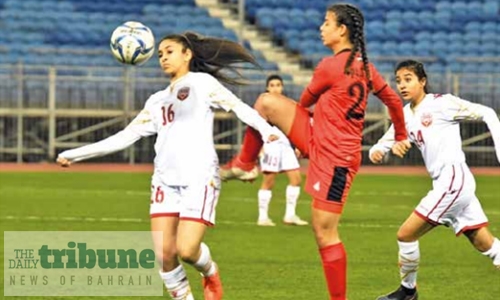 Bahrain beat Palestine to qualify for semis
Bahrain defeated Palestine 2-0 yesterday in their final group game of the second West Asian Football Federation (WAFF) U18 Girls' Championship, being played at Khalifa Sports City Stadium in Isa Town. Alanood Almannaei put the victors ahead while their second goal came on an own-goal from the Palestinians.
The result earned the Bahrainis first place on the Group B standings heading into the semi-finals. It was their second victory in as many outings and they now have six points atop their pool. The win followed their 4-1 triumph over Kuwait in their earlier game.
The Bahrainis now head into the final four, where they will face off with the runners-up from Group A, which features Lebanon, Jordan, the UAE and Iraq.
The semi-finals are scheduled for tomorrow while the gold and bronze medal games will be held on January 6. The girls' squad, coached by Khalid Al Harban, consists of 23 players, including Almannaei, Zahra Ali, Shooq Fares, Hana Hafez, Ysameen Ahmed, Sara Alaiwi, Maroa Wanas, Manar Ahmed, Fatema Salman, Jumana Almannai, Farah Khaled, Aya Qasem, Noora Marzooq, Amna Almatrook, Sara Aldoseri, Leah Sarwani, Leleya Sabkar, Sama Qasem, Yara Almannai, Maryam Ali, Manayer Thani, Maryam Alkhaja, Dana Charafeddine.