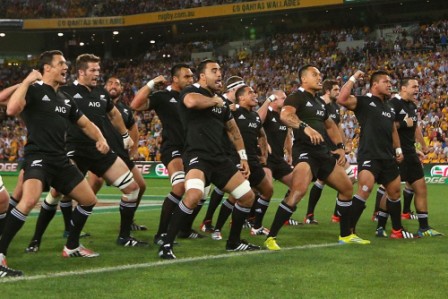 All Blacks play-down off-field insult war
London
The All Blacks refused to be provoked by a mocking haka led by former England scrum-half Matt Dawson, saying Wednesday their focus was on their opening World Cup game against Argentina and not an escalating psychological war off field.
Dawson's "hakarena" ridicules the All Blacks pre-match haka, a traditional war dance which has immense cultural significance for the New Zealanders.
In a video clip he urges England fans to use it to counter the supposed benefits the All Blacks get from the pre-match ritual.
It follows a scathing outburst from former All Black Ali Williams who said it will be "a dark day" if hosts England win the World Cup and he described their home ground Twickenham as "the most hostile stadium there is".
But the off-field insults were brushed aside by the All Blacks who said they were there strictly for the rugby with their campaign starting against Argentina on Sunday.
Seasoned campaigner Keven Mealamu, a close friend of Williams, said the former lock was not reflecting the views of other All Blacks who had played with him at Twickenham.
"That's his own thoughts," Mealamu a 126-Test veteran hooker said while surrounded by props Charlie Faumuina and Wyatt Crockett.
He described the All Blacks rivalry with England as "awesome" and said there was "a lot of mutual respect."
On Dawson's jibe at a significant piece of New Zealand culture, Mealamu, who is of Samoan descent, said it was "quite funny" seeing the haka mixed with the dance from the 1994 Spanish hit song 'Macarena'.
"It's obvious it's something he's looked at. The haka is part of what we do but it's not actually what we do as a rugby team when we go out there to play the game."
Under intense questioning from European media, Mealamu acknowledged the haka was a special part of New Zealand's culture.
When asked if Dawson should have shown more respect, Mealamu said: "It is his view on the way he sees it. We've heard a bit about it but we're just looking forward to playing Argentina."
Faumuina said he was not concerned with the off-field jibes and the haka was something dear to the All Blacks which they did for themselves.
"I don't think it worries us too much what people are trying to do."