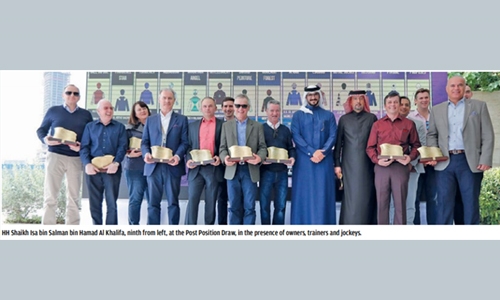 Bahrain in final preparations for International Trophy
The Post Position Draw (PPD) event, held yesterday at the Four Seasons Hotel, determined the starting gate positions of the 14 racehorses taking part in tomorrow's first-ever Bahrain International Trophy. The event was attended by High Committee Deputy Chairman of Rashid Equestrian and Horseracing Club (REHC) HH Shaikh Isa bin Salman bin Hamad Al Khalifa, Minister of Oil Shaikh Mohammed bin Khalifa bin Ahmed Al Khalifa, representatives from one of the race partners Batelco, as well as owners, trainers, jockeys, grooms and journalists from international and local media.
It was the first time that the owners, trainers, jockeys and racetrack officials have been brought together, serving as a preview of the race ahead. Of the thoroughbreds that have been selected for the race, five are local and nine have been flown in from Europe, including six from Great Britain, two from France, and one from Germany. Seven of the nine European trainers attended the draw.
The occasion also featured the grand unveiling of the Bahrain International Trophy winner's cup, designed and handcrafted from sterling silver and mahogany by legendary jewellers House of Garrard. Speaking after the PPD, REHC executive director Shaikh Salman bin Rashed Al Khalifa said: "Attracting so many top owners, trainers, jockeys and horses for our first international race has exceeded our expectations and means a lot for Bahrain, but I am sure this is only the beginning of a successful journey to establish our country in the racing calendar."
Shaikh Salman paid tribute to the REHC's local partners Gulf Air, Bapco and Batelco and to those associated with managing the racecourse. He said: "Everyone involved in making the race meeting happen has worked from the heart."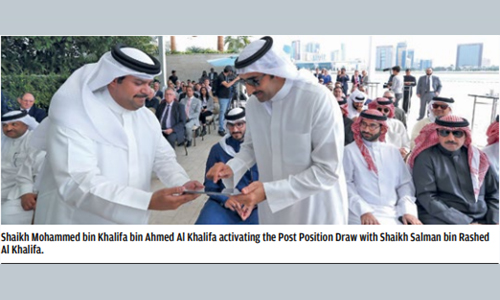 The exciting PPD concluded with the following results for the starting gate: 1. Horse: Vale Do Sol Owner: Victorious Trainer: Hesham Al Haddad Jockey: Adrie De Vries 2. Horse: Thorkhill Star Owner: Al Adiyat Racing Trainer: A. Smith Jockey: James Doyle 3. Horse: Turgenev Owner: Godolphin Trainer: John Gosden Jockey: Robert Havlin 4.
Horse: Aquarium Owner: Alsharq Racing Trainer: Jane Chapple-Hyam Jockey: Richard Kingscote 5. Horse: Mountain Angel Owner: Ziad A Galadari Trainer: Roger Varian Jockey: Andrea Atzeni 6. Horse: Intellogent Owner: Ms Fiona Carmichael Trainer: Fabrice Chappet Jockey: Pierre-Charles Boudot 7. Horse: Sword Peinture Owner: Gestut Wittekindshof Trainer: Andreas Suborics Jockey: Filip Minarik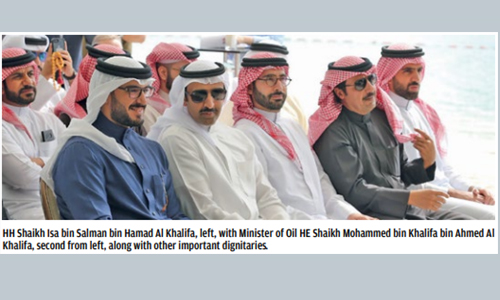 8. Horse: Coolagh Forest Owner: Moh'd Khalid A.Rahim Trainer: Paul D'Arcy Jockey: John Egan 9. Horse: Afaak Owner: His Highness Sheikh Hamdan Bin Rashid Al Maktoum, Deputy Ruler of Dubai Trainer: Charles Hills Jockey: Jim Crowley 10. Horse: Euginio Owner: Victorious Trainer: Fawzi Nass Jockey: Paddy Mathers 11. Horse: Royal Julius Owner: Jean-Jacques Biarese Trainer: Jerome Reynier Jockey: Stephane Pasquier 12.
Horse: Rustang Owner: Al Adiyat Racing Trainer: A. Smith Jockey: Gerald Mosse 13. Horse: Pivoine Owner: King Power Racing Co Ltd Trainer: Andrew Balding Jockey: Silvestre De Sousa 14. Horse: Proposed Owner: Ramadhan Stable Trainer: Jaber Ramadhan Jockey: Brett Doyle The PPD was presented by renowned TV racing presenter Nick Luck, along with noted horse racing announcer Mark Johnson.