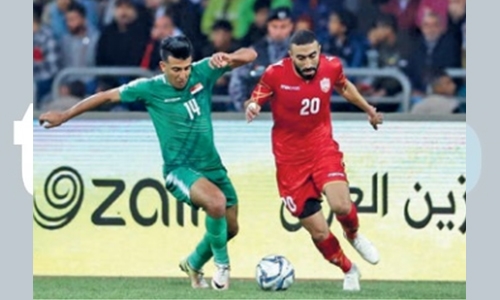 Bahrain goalless again in draw against Iraq
Bahrain and Iraq played to a goalless draw last night in their joint-qualifier for the Fifa World Cup 2022 and the AFC Asian Cup 2023, held in Amman. The Bahrainis had very few chances to score in what was a very tightly contested encounter. They did well, however, to defend against their highly regarded rivals, which was enough to claim a share of the points.
The result was the second successive goalless stalemate for Bahrain in less than a week. They had previously drawn with Hong Kong, who were 2-0 winners over Cambodia in yesterday's other fixture in qualification Group C. Following both games, Iraq improved to 11 points on the group table as they maintained their two-point lead over Bahrain. Iran were idle yesterday and they stayed third with six points and a game in hand, while Hong Kong were fourth on five points and Cambodia fifth with one. Bahrain's match yesterday was their last of the calendar year in World Cup and Asian Cup qualifying.
They have three games remaining and they resume their campaign on March 26 at home against Cambodia. They then play their Iranian counterparts in Tehran on June 4, before closing out this stage against Hong Kong at home on June 9. In this phase of the joint-qualifiers, there are eight groups in all, with five nations in each group. Teams play home and away matches. At the end, the eight group winners and the four best runners-up advance to the third round of World Cup qualifying, and also book their berths in the Asian Cup.
The next best 24 teams will compete in a separate competition for the remaining 12 slots in the Asian Cup. In last night's match, Bahrain head coach Helio Sousa fielded a first 11 that included Sayed Mohammed Jaffar between the posts; Ahmed Bughammar, Sayed Baqer, Abdulla Al Hazaa and Waleed Al Hayam in defence; Sayed Dhiya Saeed, Abdulla Hardan, Abdulwahab Al Malood, Jassim Al Shaikh and Mahdi Humaidan in a five-man midfield; and Abdulla Yusuf as the lone striker up front.
Jaffar was instrumental in keeping Bahrain's clean sheet, which was their fourth in these joint-qualifiers. The team's difficulty in scoring was again apparent yesterday as they barely troubled Iraqi goalkeeper Mohammed Hameed. The Bahrainis' best chance was in the second half with a Yusuf freekick from just outside the box. However, he shot inches wide of the top-right corner of goal.
Iraq had more chances but also could not find the finishing touch or beat Jaffar. They had one last opportunity with a free kick in a dangerous position in the first minute of second-half stoppage time, but the cross was punched away to safety by Jaffar.