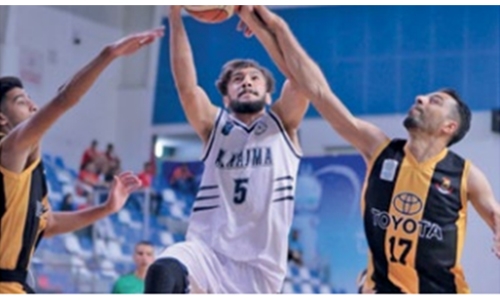 Muharraq, Al Najma march on in BBA Cup
Muharraq and Al Najma were both victorious last night as action resumed in the Bahrain Basketball Association (BBA) Cup at Zain Basketball Arena in Um Al Hassam. Muharraq enjoyed a convincing 106-86 win over Nuwaidrat while Najma edged past Al Ahli 85-82.
Both games were in Group A of the tournament. Muharraq got off to a hot start, leading 22-11 after the first period and then 50-26 at the half. They then cruised in the final two quarters and powered ahead by as many as 31 points en route to the final buzzer.
American professional Kevin Murphy scored 30 to spearhead his team in the win. Ahmed Hassan Aldurazi added 24, including five thee-pointers, while Ali Rabeea chipped in with a double-double of 10 points and 18 rebounds. Sayed Mohammed Hameed also finished with 10 in the win. For Nuwaidrat, Hamad Abbas and Mohammed Batti came off the bench and combined for 45 points in the loss.
In Najma's win, Abdulla Mohammed buried a go-ahead three-pointer to break an 80- all deadlock with just under two minutes to go. Fadalallah Abbas then had two free-throws in the closing seconds to help seal the victory. Mohammed finished with 20 points including three triples. He also had 11 rebounds.
Hussain Mohammed led them with 22 points, while Ali Jaber had just six points but registered 15 boards and nine assists. Maytham Jameel and Sayed Hashim Habib scored 18 each to pace Ahli. Cup action continues tonight with Riffa facing Al Hala at 5.30pm followed by Al Ettihad taking on Sitra at 7.15pm.